About Heaters for Pipes and Tubes
Self-Regulating Heat Cable—Adjusts its heat output in response to surface as well as surrounding temperatures.
Constant-Wattage Heat Cable—Always puts out the designated amount of watts/ft., regardless of the surrounding temperature.
Roof and Gutter Heat Cable



Before ice begins to form, install this constant-wattage heat cable on roofs and in gutters and downspouts to prevent damage caused by ice buildup. To prevent burnout, it must not be overlapped. Cable includes enough roof clips and downspout spacers for the length ordered.
Controller (sold separately) turns cable on when moisture is detected and temperature drops below 39° F; turns off when moisture is no longer detected. It includes a 6-ft. power cord with three-prong plug.
Extra clips and spacers are sold separately.
Lg.,




ft.

Wattage,


W
Wattage


Density,

W/ft

Current,


A
Roof
Clips
Downspout
Spacers
Plug Type
Cord


Lg.,

ft.

Each
30
150
5
1.3
19
16
Three Prong
6
0000000
000000
60
300
5
2.5
38
32
Three Prong
6
0000000
00000
80
400
5
3.3
57
48
Three Prong
6
0000000
000000
100
500
5
4.2
76
64
Three Prong
6
0000000
000000
120
600
5
5
76
64
Three Prong
6
0000000
000000
160
800
5
6.7
95
80
Three Prong
6
0000000
000000
200
1,000
5
8.3
133
112
Three Prong
6
0000000
000000
240
1,200
5
10
152
128
Three Prong
6
0000000
000000
Ready-to-Use

Self-Regulating

Heaters for Pipes and Tubes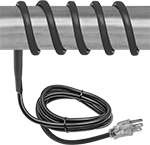 With Plug

There's no need for power-connection kits with these finished lengths of cable. These heaters automatically adjust heat output in response to surface and surrounding temperatures without a separate temperature switch or controller. They're often used to maintain liquid temperature and viscosity and provide freeze protection in pipe and tube systems. All are CSA certified for pipe freeze protection and are rated for outdoor use. Heaters can be overlapped without creating hot spots or risking burnout. A protective rubber cover provides corrosion resistance and durability.
Heaters with a plug are also CSA certified for roof and gutter de-icing applications. The plug has an indicator light that shows when the system has power.
Note: Only install these heaters in accessible locations; do not install them behind walls, underground, or in other difficult-to-access areas. Use fiberglass tape or heat-transfer putty to install them directly on surfaces that are free of dirt, grease, and rough edges. Do not use electrical tape, duct tape, metal bands, or wire. To prevent heat loss and protect heaters from moisture and corrosion, wrap them with fiberglass insulation.
With

Plug—

120V

AC,

Single Phase

Lg.,




ft.

Wattage,


W
Watt


Density,




W/ft.

Wd.

Thick.

Environment


Temp.




Range,

°F

Cord


Lg.,




ft.

Cable
Cover
Material
For
Surface
Material
For
Use
Outdoors
NEMA
Style

Current,


A
Each
6
36
6

7/16

"

1/4

"
-40° to 150°
6
Rubber
Metal, Plastic
Yes
5-15
0.3
0000000
0000000
12
72
6

7/16

"

1/4

"
-40° to 150°
6
Rubber
Metal, Plastic
Yes
5-15
0.6
0000000
000000
18
108
6

7/16

"

1/4

"
-40° to 150°
6
Rubber
Metal, Plastic
Yes
5-15
0.9
0000000
000000
24
144
6

7/16

"

1/4

"
-40° to 150°
6
Rubber
Metal, Plastic
Yes
5-15
1.2
0000000
000000
50
300
6

7/16

"

1/4

"
-40° to 150°
6
Rubber
Metal, Plastic
Yes
5-15
2.5
0000000
000000
75
450
6

7/16

"

1/4

"
-40° to 150°
6
Rubber
Metal, Plastic
Yes
5-15
3.8
0000000
000000
100
600
6

7/16

"

1/4

"
-40° to 150°
6
Rubber
Metal, Plastic
Yes
5-15
5
0000000
000000