Articulating-Arm

Dock Lights
A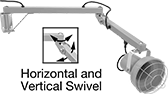 C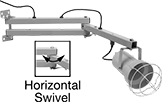 B

D
These lights swing out from the wall to illuminate loading docks and trailers. They have a steel arm, plastic lens, and switch. All have a cord with three-prong plug and operate on 120 volts AC. Lights have four mounting holes (hardware not included, except Style E includes hardware). All are yellow.
Styles A-D are compatible with medium-base CFL (compact fluorescent), halogen, and incandescent bulbs (sold separately). Some also work with LED bulbs. All have a zinc-plated steel guard to protect the lens.
Lights cannot be sold to the listed areas due to energy efficiency requirements.
Replacement light heads come with a steel guard to protect the lens. Steel heads are stronger and more durable than plastic heads. Plastic heads don't heat up as much as steel heads, and won't dent as easily.
Style
Arm
Reach
Arm
Adjustability
Head


Dia.

Wattage
Head
Material
Arm
Material
Color
Voltage
Cannot
Be
Sold To
Each

For Replaceable

CFL,

Halogen,

Incandescent,

and LED Bulbs

A
24"
Horizontal
8

1/4

"
250W
Powder-Coated Plastic
Powder-Coated Steel
Yellow
120V AC
CA
0000000
0000000
C
42"
Horizontal, Vertical
8

1/4

"
250W
Powder-Coated Plastic
Powder-Coated Steel
Yellow
120V AC
CA
0000000
000000
C
60"
Horizontal, Vertical
8

1/4

"
250W
Powder-Coated Plastic
Powder-Coated Steel
Yellow
120V AC
CA
0000000
000000

For Replaceable

CFL,

Halogen,

and Incandescent Bulbs

B
40"
Horizontal
6"
300W
Powder-Coated Steel
Plastic-Coated Steel
Yellow
120V AC
__
0000000
000000
B
60"
Horizontal
6"
300W
Powder-Coated Steel
Plastic-Coated Steel
Yellow
120V AC
__
0000000
000000
D
90"
Horizontal, Vertical
6"
300W
Powder-Coated Steel
Plastic-Coated Steel
Yellow
120V AC
__
0000000
000000