Sheet Metal Forming Hammers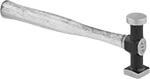 A

B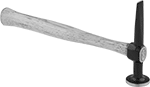 C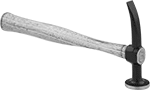 D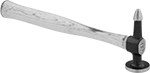 E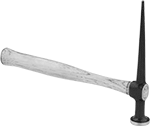 F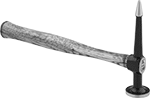 G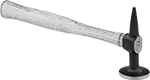 H
Also known as body and fender tools, these hammers are excellent for forming and repairing dents in sheet metal components.
Serrated face prevents the head from slipping when striking.
Hickory handles resist vibration. Fiberglass handles combine the strength of steel with the vibration resistance of wood and have a textured grip for slip resistance.
Air-Powered

Sheet Metal Forming Hammers
These air-powered tools remove dents, smooth out ridges, and shape sheet metal more efficiently than manual hammers. Fast, controlled blows allow you to create a smooth, even finish. They include attachments with different radius sizes to form a variety of shapes and finishes.
Bring hand-held hammers to workpieces that are too large to move and spaces where a floor-mount hammer can't fit. They come with straight and swivel shafts—switch to the swivel shaft for 360° rotation of the attachment.
Floor-mount hammers have a sturdy metal frame to keep the hammer in place and a foot pedal to control the speed, leaving both hands free to guide the workpiece. An automatic oiler keeps the machine running smoothly.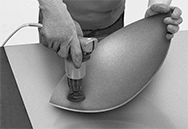 Hand Held
Radius
Sizes
Included
Recommended
Operating Air


Pressure,

psi

Max.


Blows
per Minute
Average Air


Consumption,


cfm
Pipe
Size

Thread
Type
Gender
Air
Hose
OD
Air
Hose


Lg.,

ft.

Face
Material

Lg.

Includes
Each

For

Aluminum,

Stainless

Steel,

Steel

50 mm (2)
60 mm (2)
70 mm (2)
500 mm (3)
Flat (2)
30-50
Not Rated
7

1/4

BSPP

Female

5/16

"
6

1/2

Steel
6

3/4

"
Straight Shaft, Swivel Shaft, Carrying Case
0000000
000000000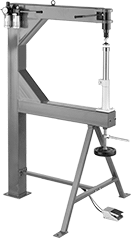 Floor Mount
Radius
Sizes
Included
Steel
Aluminum
Throat


Dp.

Clearance
Over
Die
Recommended
Operating Air


Pressure,

psi

Max.


Blows
per Minute
Average Air


Consumption,


cfm
Coupling
Size
Connection
Style
Gender
For Air
Hose
ID
Face
Material

Ht.

Wd.

Dp.

Each

For

Aluminum,

Stainless

Steel,

Steel

3/4

"
1

1/2

"
2"
3"
4"
6"
8"
12"
Flat

3/64

"

1/16

"
24"
1

1/2

"
105-120
4,600
12

3/8

Quick Disconnect
Male

3/8

"
Stainless Steel
56"
36"
33"
0000000
000000000