About Plastic Hammer Faces
High-Visibility

Dead Blow Mallets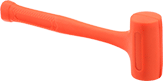 Mallet
A fluorescent orange color makes these mallets easy to see. The head is loaded with metal shot for added weight and a controlled impact with minimal rebound. All are suitable for driving chisels and striking work without damaging its surface. Choose a lighter weight mallet for tapping work into place and driving a chisel to make small cuts. Use heavier weight mallets when assembling joints, dislodging stuck parts, and making aggressive cuts with a chisel. Longer mallets allow for more powerful swings. A textured grip provides slip resistance.
Polyurethane rubber faces resist oils and solvents and won't crack under high impact. They're softer than metal faces, so they're good for striking plastic, wood, and sheet metal. All have a face hardness rating for comparing their hardness with other rubber and plastic faces. Medium faces have a hardness that's suitable for most general purpose applications.
Mallets with a tether ring are a good choice for working at height. Hook the ring onto a carabiner or lanyard to prevent the mallet from falling to the ground if dropped.
Head


Wt.

Face


Dia.

Hardness
Rating
Color
Overall


Lg.

Handle
Material
Grip
Style
Handle
Replaceable
Features
Each

Polyurethane Rubber Face

1

5/16

lbs.
1

1/2

"
Medium
Fluorescent Orange
13"
Polyurethane Rubber with Steel Core
Textured
Nonreplaceable
__
0000000
000000
1

5/16

lbs.
1

1/4

" × 1

1/2

"
Medium
Fluorescent Orange
11

3/4

"
Polyurethane Rubber with Steel Core
Textured
Nonreplaceable
Tether Ring
0000000
00000