Sledge Hammers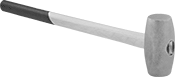 Textured Grip
Demolish material, form metal, and drive punches, chisels, and masonry drills. For demolition work, choose a hammer with a face that's harder than your workpiece. Longer and heavier hammers deliver greater impact.
20" and longer hammers can be swung with both hands to deliver a more powerful strike than shorter hammers.
Steel faces are the hardest metal faces we offer. Use them on stone, concrete, and hardened nails.
Textured and ribbed grips provide slip resistance.
Head


Wt.,

lbs.

Face


Dia.

Overall


Lg.

Handle
Replaceable
Each

Round Steel Face

Rubber Handle with Steel

Core—

Textured Grip

14
2

3/8

"
30"
Nonreplaceable
0000000
0000000
Slide Sledge Hammers
Shown with Optional

7/8"

Dia.

Face
Strike work in tight spaces where standard hammers don't have room to swing. The steel face on these hammers is hard enough to demolish material and drive pins, punches, and masonry drills. To use, pull back the slide bar and forcefully push the bar forward into the hammer's steel chamber. This drives the face into the workpiece for a powerful strike. All have a ribbed grip for slip resistance.
Optional 7/8" diameter faces allow for more precise strikes than the included 2" face and are good for driving small pins.