Head Material

Head Material
Face Material

Face Material
Head Weight

Head Weight
Show
DFARS (Defense Acquisition Regulations Supplement)

DFARS

(Defense

Acquisition

Regulations

Supplement)
Faces Replaceable

Faces Replaceable
Handle Replaceable

Handle Replaceable
RoHS (Restriction of Hazardous Substances)

RoHS

(Restriction

of
Hazardous

Substances)
Face Diameter

Face Diameter
Sledge Hammers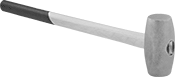 Textured Grip
Demolish material, form metal, and drive punches, chisels, and masonry drills. For demolition work, choose a hammer with a face that's harder than your workpiece. Longer and heavier hammers deliver greater impact.
20" and longer hammers can be swung with both hands to deliver a more powerful strike than shorter hammers.
Brass faces are suitable for striking steel, iron, and stone.
Hickory handles resist vibration. Steel handles are stronger than wooden handles but have less vibration resistance.
Textured and ribbed grips provide slip resistance.