About Plastic Hammer Faces
Replaceable-Face

Dead Blow Sledge Hammers
Change out the faces when they become worn. The head on these hammers is loaded with metal shot for added weight and a controlled impact with minimal rebound. Use them to demolish material, form metal, and drive punches, chisels, and masonry drills. For demolition work, choose a hammer with a face that's harder than your workpiece. Longer and heavier hammers deliver greater impact. For replacement handles, see Hickory Hammer Handles.
Press-fit hammers have nylon plastic faces with a hardness similar to that of a bowling ball.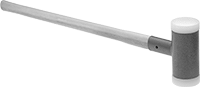 Press Fit
Head


Wt.,

lbs.

Face


Dia.

Face Hardness
Rating

(Face Color)

Overall


Lg.

Head
Material
Handle
Material
Grip
Style
Handle
Replaceable
Each

Press-Fit

Nylon Plastic Face

19

3/4

4"
Hard (White)
39

1/4

"
Steel
Hickory
Plain
Replaceable
0000000
0000000
Replacement Press-Fit Nylon Plastic Faces

Plastic
Hard faces have a hardness similar to that of a bowling ball.