About Plastic Hammer Faces
Mallets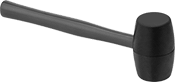 B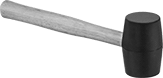 C
Drive chisels and strike work without damaging its surface. To avoid marring, choose a mallet with faces that are softer than your workpiece. Lighter weight mallets are good for tapping work into place and driving a chisel to make small cuts. Use heavier weight mallets when assembling joints, dislodging stuck parts, and making aggressive cuts with a chisel. Longer mallets allow for more powerful swings.
Rubber and plastic faces are softer than metal faces, so they're good for striking plastic, wood, and sheet metal. All have a face hardness rating for comparing their hardness with other rubber and plastic faces. Soft faces have a hardness similar to that of a tire tread. White rubber faces are nonmarking.
Hickory handles resist vibration. Fiberglass handles combine the strength of steel with the vibration resistance of wood.
Nonsparking Ball Peen Hammers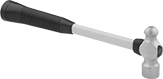 The face and head are made of aluminum-bronze that is Factory Mutual approved, so these tools inhibit sparking, resist corrosion, and are nonmagnetic. They satisfy OSHA requirements that specify nonsparking tools for locations where flammable vapors and combustible residues are present. Use the domed end of the head for forming soft metal, rounding off edges, and closing rivets. The flat striking face is for driving nails, pins, punches, and chisels. All have a textured grip for slip resistance. For replacement handles, see Fiberglass Hammer Handles.
Warning: Do not use these tools in direct contact with acetylene.
Head


Wt.,

oz.

Face


Dia.

Overall


Lg.

Face Material
Handle
Replaceable
Specifications
Met
Each

Fiberglass Handle with Textured Grip

36
1

5/8

"
14"
Aluminum-Bronze
Replaceable
FM Approved

0000000
0000000
Sledge Hammers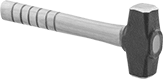 Ribbed Grip with Rectangular Face
Demolish material, form metal, and drive punches, chisels, and masonry drills. For demolition work, choose a hammer with a face that's harder than your workpiece. Longer and heavier hammers deliver greater impact.
10" to 16" long hammers are also known as engineers', drilling, club, and crack hammers. Use them for light demolition and tasks where longer hammers don't have room to swing.
Bronze faces are good for striking non-ferrous metal, such as aluminum, nickel, and titanium.
Hickory handles resist vibration.
Textured and ribbed grips provide slip resistance.