Sledge Hammers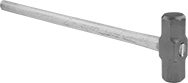 Plain Grip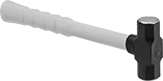 Ribbed Grip with Round Face
Demolish material, form metal, and drive punches, chisels, and masonry drills. For demolition work, choose a hammer with a face that's harder than your workpiece. Longer and heavier hammers deliver greater impact.
20" and longer hammers can be swung with both hands to deliver a more powerful strike than shorter hammers.
Steel faces are the hardest metal faces we offer. Use them on stone, concrete, and hardened nails.
Hickory handles resist vibration. Handles with a fiberglass core resist breakage if you miss your mark.
Textured and ribbed grips provide slip resistance.