About Plastic Hammer Faces
Mallets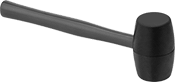 B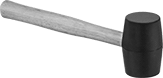 C
Drive chisels and strike work without damaging its surface. To avoid marring, choose a mallet with faces that are softer than your workpiece. Lighter weight mallets are good for tapping work into place and driving a chisel to make small cuts. Use heavier weight mallets when assembling joints, dislodging stuck parts, and making aggressive cuts with a chisel. Longer mallets allow for more powerful swings.
Rubber and plastic faces are softer than metal faces, so they're good for striking plastic, wood, and sheet metal. All have a face hardness rating for comparing their hardness with other rubber and plastic faces. Soft faces have a hardness similar to that of a tire tread. White rubber faces are nonmarking.
Hickory handles resist vibration. Fiberglass handles combine the strength of steel with the vibration resistance of wood.