About Plastic Hammer Faces
Assembled Hammer
Pair a body with two faces of different materials to create the perfect striking tool. Use mallets to drive chisels and strike work without damaging its surface. To avoid marring, use a face material that's softer than your workpiece. Lighter weight mallets are good for tapping work into place and driving a chisel to make small cuts. Use heavier weight mallets when assembling joints, dislodging stuck parts, and making aggressive cuts with a chisel. Longer mallets allow for more powerful swings.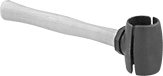 Body with
Clamping-Head
Face Mount

Clamping Head
Bodies for clamping-head face mount mallets have a head with two pieces that clamp together to grip faces tightly. They include a head, nut, and replaceable handle. To assemble, loosen the nut under the head, insert the faces, and tighten the nut.
Clamping-Head Rubber and Plastic Faces

Rubber

Plastic

Clamping Head
Rubber and plastic faces are softer than metal faces, so they're good for sheet metal work. All have a face hardness rating for comparing their hardness with other rubber and plastic faces.
Hard faces have a hardness similar to that of a bowling ball.
Extra-hard faces have a hardness similar to that of a hard hat.
Clamping-Head Rawhide Faces

Rawhide

Clamping Head
Rawhide faces are more durable than plastic and won't distort the surface of soft sheet metal, such as brass, aluminum, and copper.