Mallets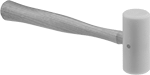 D
Drive chisels and strike work without damaging its surface. To avoid marring, choose a mallet with faces that are softer than your workpiece. Lighter weight mallets are good for tapping work into place and driving a chisel to make small cuts. Use heavier weight mallets when assembling joints, dislodging stuck parts, and making aggressive cuts with a chisel. Longer mallets allow for more powerful swings.
Rawhide faces are more durable than plastic and won't distort the surface of soft sheet metal, such as brass, aluminum, and copper.
Hickory handles resist vibration.
Mallets cannot be sold to the listed areas due to import regulations.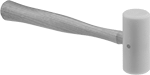 D
Head


Wt.

Face


Dia.

Overall


Lg.

Grip
Style
Handle
Replaceable
Cannot Be
Sold To
Each

Rawhide Head with Hickory Handle

D
9 oz.
1

3/4

"
11

1/2

"
Plain
Replaceable
Canada
0000000
000000
Welding Hammers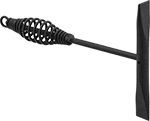 E
Chip and scrape away weld spatter, paint, and rust. Steel handles are stronger than wooden handles but have less vibration resistance.
Wire coil grips are flexible and dissipate heat.
Wt.

Style
Blade


Wd.

Overall


Lg.

Head
Material
Each

Steel Handle with Wire Coil Grip

E
9 oz.
Chisel/Pick
1"
10

1/2

"
Steel
0000000
000000
Delicate Metal Forming Hammers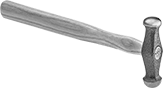 Round Face
Also known as jeweler's hammers, these have smooth steel faces for precise forming and finishing work on delicate metal workpieces.
Head


Wt.,

oz.

Round
Face

Dia.

Overall


Lg.

Face
Material
Face
Texture
Handle
Material
Grip
Style
Handle
Replaceable
Each

Round Face

9
1"
11

1/2

"
Steel
Smooth
Ash
Plain
Replaceable
0000000
000000