Clear leaves and debris. These blowers come with a bag attachment and can also be used as a vacuum.
Battery operated blowers cannot be sold to Canada due to local energy efficiency requirements.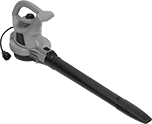 Electric
Max.

Airflow,


mph

O'all




Lg.

Material
Plug Type
Includes
Specifications
Met
Each
250
43"
Plastic
Two Prong
Vacuum Kit with Bag
CSA Certified

000000
0000000
Plug-In
Wet/Dry
Vacuum/Blowers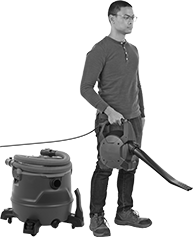 Shown as Blower
Plug-In Wet/Dry Vacuum/Blowers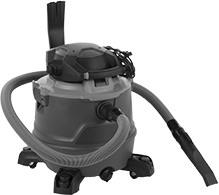 Use the included blower nozzle to convert this vacuum cleaner to a hand-held blower.
Cap.,




gal.

Ht.

Wd.

Dp.

hp

Current,


A
Voltage

Dia.

Lg.,




ft.

Dia.

Lg.

Cord


Lg.,




ft.

Specifications
Met
Features
Includes
Each

Plastic Tank

16
25

1/2

"
20

3/4

"
23"
6.5
12
120V AC
1

7/8

"
8
2

1/2

"
23"
20
UL Listed

Drain, Liquid Overflow Shut-Off Valve
Floor Nozzle
Tool Holder
Blower Nozzle
Two 20" Lg. Extension Wands
Utility Nozzle
00000000
0000000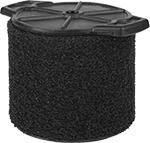 Cartridge Filter
Component
Manufacturer
Equivalent
Number
For
Vacuum
Capacity
For
Pickup
Type
Filter
Efficiency @


0.3

Microns
Includes

Pkg.




Qty.

Pkg.

Foam Filter
VF7000
6 gal. and up
Wet
__
__
1
00000000
000000
Cartridge Filter
VF4000RT
6 gal. and up
Wet/Dry
__
__
1
00000000
00000
Cartridge Filter
VF6000
6 gal. and up
Wet/Dry
99.97%
__
1
0000000
00000
Cartridge Filter
VF6500RT
12-16 gal.
Wet/Dry
99.97%
Two Cartridge Pre-Filters
1
00000000
00000
Fine-Dust Cartridge Filter
VF5000RT
6 gal. and up
Wet/Dry
__
__
1
00000000
00000