Weighing and Counting Pallet Trucks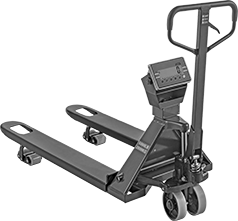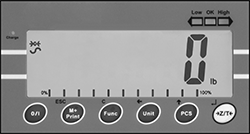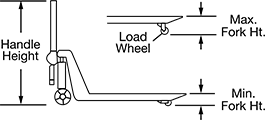 No need for separate platform and counting scales, these trucks weigh and count the contents of pallets before you move them around your facility. They have a built-in scale that features a check-weigh mode, which sounds an alarm when loads exceed a set weight. They also have a counting mode so you'll always know how many parts you have on hand—even while adding or removing contents from your pallet.
These trucks have a zero-radius pivoting handle to maneuver loads in tight spots and small corners. Use the three-position handle control (raise, lower, and neutral) to operate the hydraulic pumps to positon your loads. The trucks' forks are rounded and have rollers and load wheels to easily slide into pallets. For use on all types of floors, including areas with debris, these trucks have polyurethane wheels that are nonmarring, abrasion resistant, and shock absorbing.
A backlit LCD display shows measurements in bright or low-light conditions. It includes an RS-232 connection to send readings to a computer to further analyze or document the data. The display is IP66 rated for protection against dust and high pressure jets of water, so it can be washed down.
Trucks with a calibration certificate with test data traceable to NIST have passed ten separate tests to confirm accuracy.
Warning: Never use to lift people.
For
Pallet


Wd.

O'all




Cap.

Accuracy
Graduations

Lg.

Wd.

Outside
Spread
Inside
Spread

Min.




Ht.

Max.




Ht.

Steering
Arc

O'all




Lg.

Handle


Ht.

Wheel


Dia.

Batteries
Included
Features
Each

Pallet Trucks

Pounds,

Kilograms,

Ounces,

Newtons

33"-40"
5,000 lbs.
(2,000 kg)
±2 lbs.
±1 kg
±40 oz.
±10 N
1 lbs.
0.5 kg
20 oz.
5 N
48"
6

5/16

"
26

3/4

"
14

1/8

"
3"
7

1/2

"
200°
61"
48

1/2

"
7" (Steer)
2

3/4

" (Load)
Yes
Auto Reset
Auto Shut-Off
Check-Weigh Mode
Overload Protection
0000000
000000000

Pallet Trucks with Calibration Certificate with Test Data Traceable to NIST

Pounds,

Kilograms,

Ounces,

Newtons

33"-40"
5,000 lbs.
(2,000 kg)
±2 lbs.
±1 kg
±40 oz.
±10 N
1 lbs.
0.5 kg
20 oz.
5 N
48"
6

5/16

"
26

3/4

"
14

1/8

"
3"
7

1/2

"
200°
61"
48

1/2

"
7" (Steer)
2

3/4

" (Load)
Yes
Auto Reset
Auto Shut-Off
Check-Weigh Mode
Overload Protection
0000000
00000000