Nonsparking Ratchet Wrenches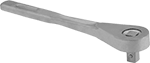 Made of aluminum-bronze, these wrenches satisfy OSHA requirements that specify nonsparking tools for locations where flammable vapors and combustible residues are present. A ratchet mechanism allows you to turn fasteners without removing and repositioning the wrench. The smaller the turn required to ratchet, the less clearance you need to engage the ratchet.
Warning: Do not use these tools in direct contact with acetylene.
For technical drawings and 3-D models, click on a part number.