System of Measurement

System of Measurement
DFARS (Defense Acquisition Regulations Supplement)

DFARS

(Defense

Acquisition

Regulations

Supplement)
REACH (Registration, Evaluation, Authorization and Restriction of Chemicals)

REACH

(Registration,




Evaluation,

Authorization
and Restriction of

Chemicals)
RoHS (Restriction of Hazardous Substances)

RoHS

(Restriction

of
Hazardous

Substances)
Build-Your-Own

Low-Profile

Railings
Combine components to create a railing. They are sized to fit together and mount on floors and walls.
Build-Your-Own

Heavy Duty Handrail Mounting Brackets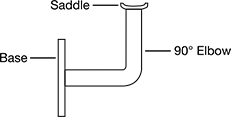 Create custom brackets to support metal handrails on stairs, ramps, and railings by cutting, machining, and welding these components.
For technical drawings and 3-D models, click on a part number.