Pipe Cradles for Loop Hangers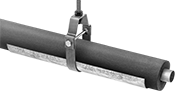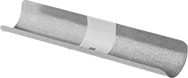 Adhesive Mount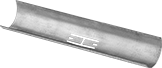 Also known as pipe shields, these cradles provide additional support and prevent insulation from tearing when routing insulated pipe through loop hangers.
Adhesive-mount cradles have an adhesive strip that attaches the cradle to the pipe's insulation.
Clip-on-mount cradles have tabs that clip directly onto the bottom of a loop hanger.
Inch

Metric,


mm

Lg.

Wd.

Ht.

Thick.

Temp.




Range,

°F

Each

Galvanized Steel

Adhesive Mount

1

7/8

"
48
12"
2"
1"

1/32

"
-150° to 500°
0000000
00000
2

3/8

"
60
12"
2

1/2

"
1

1/4

"

1/32

"
-150° to 500°
0000000
0000
2

7/8

"
73
12"
3"
1

1/2

"

1/32

"
-150° to 500°
0000000
0000
3

1/2

"
89
12"
3

1/2

"
1

3/4

"

1/32

"
-150° to 500°
0000000
0000
4"
102
12"
4"
2"

1/32

"
-150° to 500°
0000000
0000
4

1/2

"
114
12"
4

1/2

"
2

1/4

"

1/32

"
-150° to 500°
0000000
0000
5"
127
12"
5"
2

1/2

"

1/32

"
-150° to 500°
0000000
0000
5

9/16

"
141
12"
5

1/2

"
2

3/4

"

1/32

"
-150° to 500°
0000000
0000
6

1/8

"
156
12"
6"
3"

1/16

"
-150° to 500°
0000000
0000
1

7/8

"
48
12"
2"
1"

3/64

"
__
0000000
00000
2

3/8

"
60
12"
2

1/2

"
1

1/4

"

3/64

"
__
0000000
00000
2

7/8

"
73
12"
3"
1

1/2

"

3/64

"
__
0000000
00000
3

1/2

"
89
12"
3

5/8

"
1

13/16

"

3/64

"
__
0000000
00000
4"
102
12"
4

1/8

"
2

1/16

"

3/64

"
__
0000000
00000
4

1/2

"
114
12"
4

5/8

"
2

5/16

"

3/64

"
__
0000000
00000
5"
127
12"
5

1/8

"
2

9/16

"

3/64

"
__
0000000
00000
5

9/16

"
141
12"
5

11/16

"
2

13/16

"

3/64

"
__
0000000
00000
6

5/8

"
168
12"
6

3/4

"
3

3/8

"

1/16

"
__
0000000
00000
7

5/8

"
194
12"
7

3/4

"
3

7/8

"

1/16

"
__
0000000
00000
8

5/8

"
219
12"
8

3/4

"
4

3/8

"

1/16

"
__
0000000
00000