High-Humidity

Desiccant Bags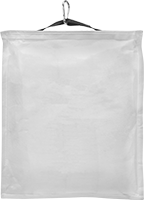 Bag With
Hanging Strap and Locking Carabiner
When relative humidity is at least 90%, use these desiccants. They are often used to protect cargo sent in large containers from moisture.
The area covered is calculated at 77° F and 90% relative humidity.
22" long desiccant bags are best for large sea containers, rail cars, and river barges. They have a hanging strap and a locking carabiner, so you can secure them off the floor to save valuable floor space. Three bags are recommended for a 20-ft. shipping container.
For


Area,




cu.

in.

Removal
Capacity

Lg.

Wd.

Wt.,




oz.

Bag
Material
Features

Pkg.




Qty.

Pkg.

69,120
Up to 150% of desiccant weight
22"
18"
52.9
Tyvek
Hanging Strap, Locking Carabiner
6
000000
0000000