Anodized Multipurpose 6061 Aluminum Rods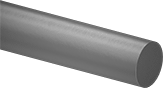 Yield

Strength:

35,

000 psi

Hardness:

Not Rated

Temper:




1/8"

to

3/8"

Dia.:

T6
All other

sizes: T6511

Fabrication:

Extruded
Specifications

Met:

ASTM B221
An anodized coating forms a bond with the aluminum surface to improve wear and corrosion resistance. Often called hard anodized, the surface is nearly as hard as case-hardened steel, which makes these rods more difficult to machine than uncoated 6061 rods. The most widely used aluminum, 6061 is fabricated into everything from pipe fittings and containers to automotive and aerospace parts. It is strong and corrosion resistant.
For technical drawings and 3-D models, click on a part number.

Certificates with a traceable lot number are available for these products. Download certificates from ORDER HISTORY after your order ships.
Dia.

Dia.

Tolerance
Heat
Treatment
Finish
Color
Temperature


Range,

°F

1 ft.

Lg.

3 ft.

Lg.

1/8

"
-0.007" to 0.007"
Hardened
Gray
-320° to 300°
0000000

3/16

"
-0.007" to 0.007"
Hardened
Gray
-320° to 300°
0000000

1/4

"
-0.008" to 0.008"
Hardened
Gray
-320° to 300°
0000000

5/16

"
-0.008" to 0.008"
Hardened
Gray
-320° to 300°
0000000

3/8

"
-0.008" to 0.008"
Hardened
Gray
-320° to 300°
0000000

1/2

"
-0.009" to 0.009"
Hardened
Gray
-320° to 300°
0000000

5/8

"
-0.009" to 0.009"
Hardened
Gray
-320° to 300°
0000000

3/4

"
-0.010" to 0.010"
Hardened
Gray
-320° to 300°
0000000

7/8

"
-0.010" to 0.010"
Hardened
Gray
-320° to 300°
0000000
1"
-0.012" to 0.012"
Hardened
Gray
-320° to 300°
0000000
1

1/4

"
-0.012" to 0.012"
Hardened
Gray
-320° to 300°
0000000
1

1/2

"
-0.014" to 0.014"
Hardened
Gray
-320° to 300°
0000000
2"
-0.024" to 0.024"
Hardened
Gray
-320° to 300°
0000000
2

1/2

"
-0.024" to 0.024"
Hardened
Gray
-320° to 300°
0000000
3"
-0.024" to 0.024"
Hardened
Gray
-320° to 300°
0000000