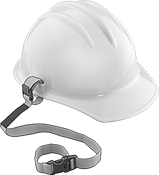 Attach to your hard hat to prevent accidental drops.
Lg.

Material
Construction
Connection Type
Each
23

1/4

"
Polyester/Rubber
Webbing
Elastic Strap with Cinching Buckle × Cinching Buckle
0000000
00000
Grease Fitting Dust Caps


Keep standard grease fittings free of dirt and moisture.
For technical drawings and 3-D models, click on a part number.
Color
Material
Cap
ID

Pkg.




Qty.

Eye


Dia.

1-9

10-Up

Eye


Dia.

1-9

10-Up

Black
Polyethylene Plastic

15/64

"
50

15/64

"
0000000
00000
00000

25/64

"
0000000
000000
00000
Blue
Polyethylene Plastic

15/64

"
50

15/64

"
0000000
0000
0000

25/64

"
0000000
00000
0000
Green
Polyethylene Plastic

15/64

"
50

15/64

"
0000000
0000
0000

25/64

"
0000000
00000
0000
Red
Polyethylene Plastic

15/64

"
50

15/64

"
0000000
0000
0000

25/64

"
0000000
00000
0000
White
Polyethylene Plastic

15/64

"
50

15/64

"
0000000
0000
0000

25/64

"
0000000
00000
0000
Yellow
Polyethylene Plastic

15/64

"
50

15/64

"
0000000
0000
0000

25/64

"
0000000
00000
0000