Washdown Ceiling Lights

C
A sealed lens keeps moisture out to protect these lights against washdowns.
Style C have a tubular lens that allows light to shine from all directions. The lens is acrylic so it won't turn yellow over time. Lights meet NSF/ANSI 2 for use in food handling and processing areas.
Lights without bulbs work with tubular fluorescent bulbs (sold separately).
For Tubular T8 Fluorescent Bulbs

C
Style

Lg.

Dia.

Voltage
Bulbs
Included

No.

of
Bulbs
Required

Max.


Wattage
per Bulb
Mounting
Hardware
Included

No.


of

Dia.

Specifications
Met
Each

Pkg.




Qty.

Pkg.

Each
C
50

3/8

"
6

1/2

"
120V AC, 208V AC, 240V AC, 277V AC
No
2
32W
Yes
2

3/8

"
NSF/ANSI 2

0000000
0000000
6
0000000
000000
000000
0000000
Washdown Emergency Backup Lights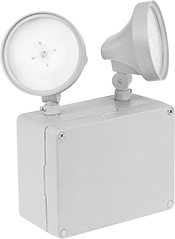 Rated NEMA 4X, these lights are protected from corrosion and washdowns. They have built-in LEDs so they last longer, are more efficient, and generate less heat than other technologies. Lights can be hardwired to operate on any of the voltages listed. They have a low-voltage disconnect so they won't drain the backup battery. Use the test switch to check that the heads and battery are working properly. Heads adjust to any angle to direct light where needed.
Mount add-on heads in remote areas to extend emergency lighting. Wire up to three of these heads to your emergency backup light.
Wd.

Ht.

Dp.

Equiv.


Incandescent
Bulb Wattage
Voltage

Brightness,


lumens
Light
Appearance
Wattage
For

Max.

No.


of

Add-On


Heads
Batteries
Included
Run


Time,




hrs.

Mounting
Hardware
Included

No.


of

Dia.

Environmental
Rating
Each
10

7/8

"
12"
6"
16W
120V AC, 277V AC
600
Cool (5000K)
8.2W
3
Yes
1.5
No
4

5/16

"
NEMA 4X, IP66

0000000
0000000