About Hazardous Location Environmental Ratings
Hazardous Location
Adhesive-Mount

Heaters for

Pails,

Drums,

and Tanks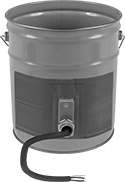 These heaters are rated for environments where hazardous material is present. Also known as heat sheets, they are flexible and permanently adhere to container surfaces to warm contents without direct contact. All have a watt density of 2.5 W/sq. in. for gentle warming. Heaters require a temperature switch or controller to regulate heat output and should be installed with Dow Corning 736 silicone sealant (both not included).
Note: Do not cut, crease, or overlap these heaters—this will damage the heating element. Use a roller during installation to remove air pockets and ensure direct surface contact. Once heaters have been applied to a surface, they cannot be removed and reused.
Hazardous location environmental ratings indicate whether manufacturers have included safety features in products to facilitate their safe use in a hazardous environment. Before selecting a product for a hazardous location, ensure it is rated for your environment. See About Hazardous Location Environmental Ratings.
For technical drawings and 3-D models, click on a part number.
Lg.

Wd.

Wattage,


W
Voltage
Electrical
Phase

Current,


A

Thick.

Max.

Heat


Output,




°F

Environment


Temp.




Range,

°F

For
Surface
Material
Material
Environmental
Rating
NEC Hazardous
Location

Temp.


Classification
Each

Rectangle

2.5

W/sq.

in.

Watt Density

12"
6"
180
120V AC
Single
1.5

3/16

"
290°
-60° to 400°
Metal
Silicone Rubber
NEC Class I Division 2 Groups A, B, C, D
NEC Class II Division 2 Groups F, G
IEC Zone 2 Groups IIB, IIA
IEC Zone 22 Groups IIIB, IIIA
T3 (392° F)
0000000
0000000
12"
12"
360
120V AC
Single
3

3/16

"
290°
-60° to 400°
Metal
Silicone Rubber
NEC Class I Division 2 Groups A, B, C, D
NEC Class II Division 2 Groups F, G
IEC Zone 2 Groups IIB, IIA
IEC Zone 22 Groups IIIB, IIIA
T3 (392° F)
0000000
000000
24"
6"
360
120V AC
Single
3

3/16

"
290°
-60° to 400°
Metal
Silicone Rubber
NEC Class I Division 2 Groups A, B, C, D
NEC Class II Division 2 Groups F, G
IEC Zone 2 Groups IIB, IIA
IEC Zone 22 Groups IIIB, IIIA
T3 (392° F)
0000000
000000
24"
12"
720
120V AC
Single
6

3/16

"
290°
-60° to 400°
Metal
Silicone Rubber
NEC Class I Division 2 Groups A, B, C, D
NEC Class II Division 2 Groups F, G
IEC Zone 2 Groups IIB, IIA
IEC Zone 22 Groups IIIB, IIIA
T3 (392° F)
0000000
000000