Choosing an Electrical Switch
Hazardous Location Limit Switches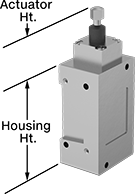 Plunger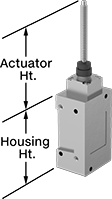 Wobble Stick
Use these switches where ignitable gas and dust may be present. They meet NEC Class I, Division 1, Groups B, C, and D; and Class II, Division 1, Groups E, F, and G for hazardous locations. When an object in motion touches the actuator, it sends a signal to open or close a circuit. They're often used on conveyor systems and elevators.
Switches with a plunger allow you to adjust its height, making it easier to align switch with the target during installation.
For technical drawings and 3-D models, click on a part number.
No.

of
Circuits
Controlled
Switch
Starting
Position
Switch
Action
Industry
Designation
Switching
Current @
Voltage

Max.


Voltage
Operating


Temp.




Range,

°F

Actuator


Ht.

Wire
Connection
Type

No.


of
Terminals

Lg.

Ht.

Dp.

Housing
Material
Conduit
Trade
Size

Each

Plunger Actuator Style

1
1 Off (Normally Open) or 1 On (Normally Closed)
Springs Back (Momentary)
SPDT
10 A @ 600 V AC, 2.5 A @ 600 V DC
600V AC
600V DC
0° to 185°
2.7"-2.9"
Screw Terminals
4
2.7"
4.1"
2.1"
Aluminum

1/2

0000000
0000000

Wobble Stick Actuator Style

1
1 Off (Normally Open) or 1 On (Normally Closed)
Springs Back (Momentary)
SPDT
10 A @ 600 V AC, 2.5 A @ 600 V DC
600V AC
600V DC
0° to 185°
6.2"
Screw Terminals
4
2.7"
4.1"
2.1"
Aluminum

1/2

0000000
000000