About Electric Motors
When replacing a motor, use the information on your motor's nameplate to guide your selection.
About Hazardous Location Environmental Ratings
Hazardous Location
Base-Mount

AC Motors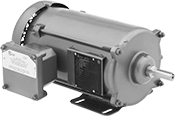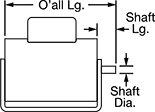 These motors are rated for environments where hazardous material is present. They are continuous duty and mount horizontally. You can wire for clockwise or counterclockwise rotation; instructions are included. The base is welded to the enclosure.
Motors with automatic overload protection turn off in overload conditions to prevent motor damage and start automatically after they cool.
Hazardous location environmental ratings indicate whether manufacturers have included safety features in products to facilitate their safe use in a hazardous environment. Before selecting a product for a hazardous location, ensure it is rated for your environment. See About Hazardous Location Environmental Ratings.
Power,


hp

Max.




Speed,


rpm
Full Load


Current,


A
Inverter
Rated

Lg.

Wd.

Ht.

Dia

Lg.

Center
to
Base
Shaft
Type
Overload
Protection
Type
Class

Max.




Temp,




°F

Environmental
Rating
Each

115/208-230

Volts

AC,

Single Phase

1/4

1,800
5/2.6-2.5
No
12

7/8

"
7

1/4

"
8

1/8

"

1/2

"
1

1/2

"
3"
D-Profile
Automatic
B
104°
NEC Class I Divisions 1, 2 Group D
NEC Class II Divisions 1, 2 Groups F, G
0000000
0000000

1/2

1,800
7.4/3.9-3.7
No
14

1/4

"
8

3/8

"
9

1/8

"

5/8

"
1

7/8

"
3

1/2

"
Keyed
Automatic
B
104°
NEC Class I Divisions 1, 2 Group D
NEC Class II Divisions 1, 2 Groups F, G
0000000
000000

115/230

Volts

AC,

Single Phase

1
1,800
12.4/6.2
No
15

1/4

"
8

3/8

"
9

1/8

"

5/8

"
1

7/8

"
3

1/2

"
Keyed
Automatic
B
104°
NEC Class I Divisions 1, 2 Group D
NEC Class II Divisions 1, 2 Groups F, G
0000000
00000000

208-230/460

Volts

AC,

Three Phase

3/4

1,800
3.2-3/1.5
No
14

1/4

"
8

3/8

"
9

1/8

"

5/8

"
1

7/8

"
3

1/2

"
Keyed
Automatic
B
104°
NEC Class I Divisions 1, 2 Group D
NEC Class II Divisions 1, 2 Groups F, G
0000000
00000000

230/460

Volts

AC,

Three Phase

2
1,800
5.4/2.7
Yes
15

1/4

"
8

5/8

"
9

1/8

"

7/8

"
2

1/4

"
3

1/2

"
Keyed
__
F
104°
NEC Class I Divisions 1, 2 Group D
NEC Class II Divisions 1, 2 Groups F, G
0000000
00000000
1
1,800
3/1.5
Yes
14

3/8

"
8

3/8

"
9

1/8

"

5/8

"
1

7/8

"
3

1/2

"
Keyed
__
F
104°
NEC Class I Divisions 1, 2 Group D
NEC Class II Divisions 1, 2 Groups F, G
0000000
00000000