Hazardous Location Digital
Bench-Top

Scales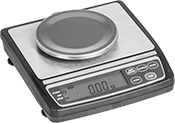 Round Platform
Rectangular Platform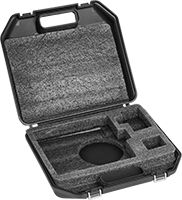 Carrying Case
Safely weigh material in hazardous environments—these scales operate with low voltages so they won't create sparks. They're FM approved for Class I, Divisions 1 and 2, Groups C and D environments, so they can be used where flammable gases, vapors, and liquids with characteristics similar to propane and ethylene can be found under normal operating conditions.
These scales are among the most accurate bench-top scales we offer, so you don't have to compromise precision for safety. They have several different modes: check weighing notifies you if an item falls outside of a certain weight range, counting keeps tally as you add or remove pieces, and the tare function resets the scale to zero after placing a container on the platform. A backlit LCD display lets you easily read out measurements in low lighting.
Scales run for 200 hours on four AA batteries (sold separately). Use a carrying case (sold separately) for secure transport.
For technical drawings and 3-D models, click on a part number.
Capacity
Accuracy
Graduations

Dia.

Wd.

Dp.

Ht.

Wd.

Dp.

Batteries
Included
Environmental
Rating
Features
Each

Ounces,

Grams,

Pennyweights,

Troy

Ounces,

Carats,

Grains,

Mommes,

Newtons,

Pounds

Round Stainless Steel Platform

10.93 oz.
(300 g)
±0.002 oz.
(±0.02 g)
0.001 oz.
(0.01 g)
4

3/8

"
__
__
2

1/8

"
7

1/2

"
8

5/8

"
No
NEC Class I Divisions 1, 2 Groups C, D
NEC Zone 0 Groups IIB, IIA
IEC Zone 0 Groups IIB, IIA
Check-Weigh Mode, Counting Mode, Tare Function
0000000
000000000

Rectangular Stainless Steel Platform

109.35 oz.
(3,000 g)
±0.02 oz.
(±0.2 g)
0.01 oz.
(0.1 g)
__
6

3/4

"
5

1/4

"
2

1/8

"
7

1/2

"
8

5/8

"
No
NEC Class I Divisions 1, 2 Groups C, D
NEC Zone 0 Groups IIB, IIA
IEC Zone 0 Groups IIB, IIA
Check-Weigh Mode, Counting Mode, Tare Function
0000000
00000000
423.3 oz.
(12,000 g)
±0.2 oz.
(±1 g)
0.1 oz.
(1 g)
__
6

3/4

"
5

1/4

"
2

1/8

"
7

1/2

"
8

5/8

"
No
NEC Class I Divisions 1, 2 Groups C, D
NEC Zone 0 Groups IIB, IIA
IEC Zone 0 Groups IIB, IIA
Check-Weigh Mode, Counting Mode, Tare Function
0000000
00000000