About Hazardous Location Environmental Ratings
Pipe-Mount

Hazardous Location Thermometers

Mount this thermometer on pipes in environments with flammable gases, combustible dust, and ignitable fibers. It is FM approved for Class I, Divisions 1 and 2, Groups B, C, and D; Class II, Divisions 1 and 2, Groups E, F, and G; and Class III, Divisions 1 and 2 hazardous locations. Enclosure meets NEMA 4X for indoor/outdoor use and resistance to corrosive fluids, splashing water, and dust. It requires a mounting bracket (sold separately).
Temperature
Range
Resolution
Accuracy
For
Probe
Type
Probe
Connection
For
Pipe
Size

Housing
Lens
Environmental
Rating
Batteries
Included
Each
-58° to 1832° F/-50° to 1000° C
.0001/.0001
±1° F/ ±1° C
J, K, RTD
Wire Leads
2

Aluminum
Glass
NEC Class I Divisions 1, 2 Groups B, C, D
NEC Class II Divisions 1, 2 Groups E, F, G
NEC Class III Divisions 1, 2
IP68
NEMA 4X

No
0000000
0000000
| | | | |
| --- | --- | --- | --- |
| Optional Stainless Steel Bracket | 0000000 | Each | 0000000 |
Hazardous Location Infrared Thermometers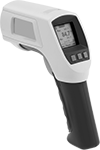 These thermometers are rated for environments where hazardous material is present. They measure the temperature of surfaces without making contact and are often used to locate and diagnose problems in electrical, heating, and ventilation systems. Maximum working distance is the distance a one foot target can be reliably measured. Thermometers have adjustable emissivity, which means they can be calibrated for accurate readings of shiny surfaces.
Hazardous location environmental ratings indicate whether manufacturers have included safety features in products to facilitate their safe use in a hazardous environment. Before selecting a product for a hazardous location, ensure it is rated for your environment. See About Hazardous Location Environmental Ratings.
Warning: These infrared thermometers are not intended for medical use. Use Non-Contact Forehead Thermometers for medical use.
Temp.


Range
Resolution
Accuracy

Max.


Working


Distance,

ft.

Emissivity
Response


Time,




sec.

Ht.

Wd.

Housing
Material
Environmental
Rating
Included
Size

No.


Required
Each

For

Dark,

Dull,

Light,

Shiny Surfaces

Adjustable Emissivity

-40° to 1472° F/-40° to 800° C
0.1/0.1
±1%
30
0.1 to 1
0.5
7"
2"
Plastic
NEC Class I Divisions 1, 2 Groups A, B, C, D
NEC Zone 1 Groups IIC, IIB, IIA
IEC Zone 1 Groups IIC, IIB, IIA
Yes
AAA
2
0000000
000000000