Heat-Dissipating

Circuit Board Enclosures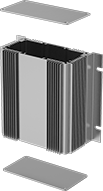 With internal slots and external fins, these enclosures hold circuit boards securely and dissipate heat to keep electronics from overheating. Their two-piece body and removable end caps help you access inside, which is useful for prototyping and adjusting circuitry.
Enclosures with mounting flanges make it easy to attach the enclosures to any surface.
IP-rated enclosures protect circuit boards and electronics in dusty and wet environments.
For technical drawings and 3-D models, click on a part number.
Height
Width
Depth
Number
of
Slots
Heat
Transfer
Coefficient
Number
of
Holes
Hole
Diameter
Fasteners
Included
Color
Environment
Environmental
Rating
Each

Anodized Aluminum

With Removable Mounting Flanges and

Two-Piece

Body

4

3/4

"
4

3/8

"
2

3/8

"
6
1.75° C/W
4

13/64

"
No
Gray
__
__
00000000
000000
4

3/4

"
4

3/8

"
2

3/8

"
6
1.75° C/W
4

13/64

"
No
Black
__
__
00000000
00000
6

5/16

"
4

3/8

"
2

3/8

"
6
1.5° C/W
4

11/64

"
No
Gray
__
__
00000000
00000
6

5/16

"
4

3/8

"
2

3/8

"
6
1.5° C/W
4

11/64

"
No
Black
__
__
00000000
00000

Powder Coated Aluminum

With Mounting Flanges and

Two-Piece

Body

4"
2

1/4

"
1

13/16

"
4
3.31° C/W
4

11/64

"
No
Black
Damp, Dusty, Washdown
IP65

00000000
00000
4"
4

1/8

"
2"
4
1.68° C/W
4

11/64

"
No
Black
Damp, Dusty, Washdown
IP65

00000000
00000
4"
6

5/8

"
3"
8
1.32° C/W
4

11/64

"
No
Black
Damp, Dusty, Washdown
IP65

00000000
00000
6"
2

1/4

"
1

13/16

"
4
2.46° C/W
4

11/64

"
No
Black
Damp, Dusty, Washdown
IP65

00000000
00000
6"
4

1/8

"
2"
4
1.37° C/W
4

11/64

"
No
Black
Damp, Dusty, Washdown
IP65

00000000
00000
6"
6

5/8

"
3"
8
1.11° C/W
4

11/64

"
No
Black
Damp, Dusty, Washdown
IP65

00000000
000000
7

7/8

"
2

1/4

"
1

13/16

"
4
2.04° C/W
4

11/64

"
No
Black
Damp, Dusty, Washdown
IP65

00000000
00000
7

7/8

"
4

1/8

"
2"
4
1.26° C/W
4

11/64

"
No
Black
Damp, Dusty, Washdown
IP65

00000000
00000
7

7/8

"
6

5/8

"
3"
8
0.98° C/W
4

11/64

"
No
Black
Damp, Dusty, Washdown
IP65

00000000
000000
4"
2

1/4

"
1

3/4

"
4
3.31° C/W
__
__
__
Black
Damp, Dusty, Washdown
IP65

00000000
00000
4"
4

1/8

"
1

7/8

"
4
1.68° C/W
__
__
__
Black
Damp, Dusty, Washdown
IP65

00000000
00000
4"
6

5/8

"
3"
8
1.32° C/W
__
__
__
Black
Damp, Dusty, Washdown
IP65

00000000
00000
6"
2

1/4

"
1

3/4

"
4
2.46° C/W
__
__
__
Black
Damp, Dusty, Washdown
IP65

00000000
00000
6"
4

1/8

"
1

7/8

"
4
1.37° C/W
__
__
__
Black
Damp, Dusty, Washdown
IP65

00000000
00000
6"
6

5/8

"
3"
8
1.11° C/W
__
__
__
Black
Damp, Dusty, Washdown
IP65

00000000
000000
7

7/8

"
2

1/4

"
1

3/4

"
4
2.04° C/W
__
__
__
Black
Damp, Dusty, Washdown
IP65

00000000
00000
7

7/8

"
4

1/8

"
1

7/8

"
4
1.26° C/W
__
__
__
Black
Damp, Dusty, Washdown
IP65

00000000
00000
7

7/8

"
6

5/8

"
3"
8
0.98° C/W
__
__
__
Black
Damp, Dusty, Washdown
IP65

00000000
000000