Extreme
Heat-Protection

Mitts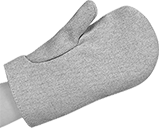 Kevlar
Aramid/Fiberglass
Blend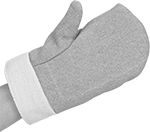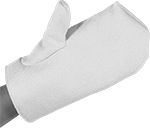 Zetex and Zetex Plus
Protect your hands from intermittent exposure to extreme heat during jobs that don't require high dexterity. Mitts are more convenient to put on and take off than gloves. Holding heavy objects may decrease temperature rating.
Kevlar aramid/fiberglass blend mitts have good dexterity.
PBI/Kevlar aramid blend mitts provide better abrasion resistance than the Kevlar aramid/fiberglass blend.
Zetex and Zetex Plus mitts protect hands from exposure to nearby flames and heat.
Max.




Temp.,

°F

For Heat
Exposure
Type
Cuff
Style
Lining
Material
Color
Size
Pair
Pair
Pair

Kevlar

Aramid/Fiberglass

Fabric Blend

800°
Direct
Open
Wool Fabric
Yellow
One Size
0000000
000000
0000000
000000
000000
00

PBI/Kevlar

Aramid Fabric Blend

1500°
Direct
Open
Wool Fabric
Gold
One Size
0000000
00000
0000000
00000
0000000
0000000
2000°
Direct
Open
Wool Fabric
Gold
One Size
0000000
000000
0000000
000000
0000000
000000

Zetex Fabric

1000°
Ambient
Open
Wool Fabric
White
One Size
0000000
00000
000000
00000
000000
00

Zetex Plus Fabric

1800°
Ambient
Open
Wool Fabric
Beige
One Size
0000000
00000
000000
00000
000000
00