About
Flame-Resistant

Arc-Rated

Personal Protection

Use these pads to protect your hands from intermittent exposure to direct heat when handling hot items. Made of flexible silicone, the textured slip-resistant surface provides a secure grip.
Welding Hand Pads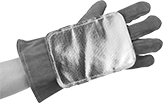 Slip these pads over gloves for additional protection against sparks and spatter. They are made from highly heat-reflective material and have straps to hold them in place.
Welding Arm Pads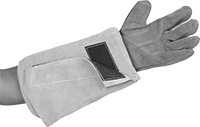 These pads allow you to rest your arm on a hot surface while welding. Use them to shield your arms from welding sparks and spatter.
Flame-

and

Arc-Flash-Protection

Knee Pads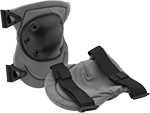 These knee pads meet NFPA 70E standards for protection against electrical arc flashes for personal protection equipment (PPE) Category 2. Check the PPE category and minimum arc rating provided for your workplace, and then select all required clothing and personal protective equipment to meet the minimum arc rating. Arc rating measures a garment's ability to insulate the wearer from burns; the higher the arc rating, the greater the flame resistance. These pads have a hard plastic cap that reduces resistance, making it easy to slide on hard surfaces. They have two adjustable buckles to modify the fit.
Padding
Cover
Cap
Arc
Rating, cal/cm2
Arc Rated
PPE
Category
Padding


Thick.

Closure
Type
Specifications
Met
Color
Size
Pair
Foam
Cotton Fabric
Plastic
12.4
2

1/2

"
Buckle
NFPA 70E
Black and Gray
One Size
00000000
000000