Cooling Vests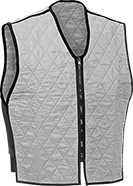 A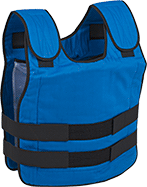 B
Chill these vests to keep you cool and comfortable in hot conditions.
Style A are lightweight nylon. Soak in cold water for 5 minutes, and it keeps you cool through evaporation for up to 4 hours. The exterior is water resistant to keep you dry. They have a zipper down the front.
Style B have cooling packs that maintain a consistent cool temperature of 55° F for up to 3 1/2 hours. Soak the packs in ice water for 10-15 minutes, or store in the freezer for at least 20 minutes before wearing. These vests are durable cotton for better abrasion resistance than Style A. They have hook and loop fasteners at the shoulders and around the waist to modify the fit and tear away easily if caught on machinery.
Size
Chest Size
M
36"/38"
L
38"/40"/42"
XL
42"/44"/46"
2XL
46"/48"/50"
3XL
50"/52"/54"
Replacement
Cooling
Pack Sets

Style
Material
Closure
Type
Weight
Choose
a
Color
Choose
a
Size
Each
Each
Each
A
Nylon Fabric
Zipper
__
0000000
000000
000000
00
000000
00
B
Cotton Fabric
Hook and Loop
6

1/2

lbs.
Blue
One Size
0000000
000000
0000000
0000000
0000000
0000000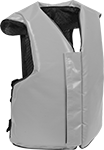 A tough Nomex shell resists high temperatures and minor sparks when welding near the water. These vests are international safety orange to help workers stand out. They have a moisture-wicking mesh liner to keep you cool when working and adjustable sides to expand the fit. They are United States Coast Guard Type III approved for use near calm, inland waters where there is a high chance of immediate rescue.
United States Coast
Guard Approval
Material
Closure
Type
Features
Color
Size
Each
Type III
Nomex Fabric and Polyester Fabric
Zipper
Mesh Lining
Orange
One Size
0000000
0000000