Noncontact
Wrap-Around

Heaters for Pails and Drums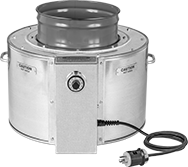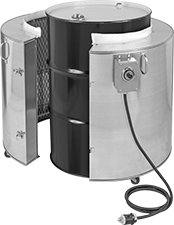 To prevent hot spots that can damage heat-sensitive materials such as adhesives, sealants, and food, these heaters warm the air around containers without touching them. They provide uniform heat to 80% of the container. An adjustable thermostat automatically turns the heater on when the temperature drops below your set temperature and off when it rises above your set temperature. Adjust the set temperature with the dial. Do not use these heaters with flammable materials or in hazardous areas.
Heaters for 5-gallon containers do not open; set containers in from the top.
Heaters for 55-gallon containers close around containers. They are mounted on casters.
For
Container


Dia.

O'all




Ht.

Wattage,


W
Watt


Density,




W/sq.

in.

Voltage
Electrical
Phase

Current,


A
OD

Max.

Heat


Output,




°F

NEMA
Style
Cord


Lg.,




ft.

For
Surface
Material
Housing
Material
Insulation
Material
Each

60°

to

250° F

Temp.

Control Range

12"
13"
1,350
81
120V AC
Single
15
22"
250°
5-15
8
Metal
Steel
Fiberglass
0000000
000000000

100°

to

550° F

Temp.

Control Range

12"
13"
1,350
81
120V AC
Single
15
22"
550°
5-15
8
Metal
Steel
Fiberglass
0000000
00000000
12"
13"
1,350
81
240V AC
Single
6
22"
550°
L6-20
8
Metal
Steel
Fiberglass
0000000
00000000

60°

to

250° F

Temp.

Control Range

23

3/4

"
30

1/2

"
1,500
92
120V AC
Single
15
35"
250°
L5-15
8
Metal
Steel
Fiberglass
0000000
00000000
23

3/4

"
30

1/2

"
4,400
270
240V AC
Three
12
35"
250°
L15-20
8
Metal
Steel
Fiberglass
0000000
00000000
23

3/4

"
30

1/2

"
4,400
270
480V AC
Three
6
35"
250°
L16-20
8
Metal
Steel
Fiberglass
0000000
00000000
23

3/4

"
30

1/2

"
4,400
337
240V AC
Single
20
35"
250°
L6-20
8
Metal
Steel
Fiberglass
0000000
00000000

100°

to

550° F

Temp.

Control Range

23

3/4

"
30

1/2

"
4,400
270
240V AC
Three
12
35"
550°
L15-20
8
Metal
Steel
Fiberglass
000000
00000000
23

3/4

"
30

1/2

"
4,400
270
480V AC
Three
6
35"
550°
L16-20
8
Metal
Steel
Fiberglass
000000
00000000
23

3/4

"
30

1/2

"
4,400
337
240V AC
Single
20
35"
550°
L6-20
8
Metal
Steel
Fiberglass
000000
00000000