Heavy Duty Racks for Pipe and Bars
Also known as cantilever racks.
Arms have a removable lip that can be reversed to make a flush end for storing flat material. Columns have a flat base that can be used as additional storage.
Warning: Not for use with power-lifting equipment such as forklift trucks.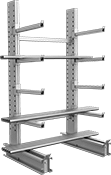 Complete Unit with One Usable Side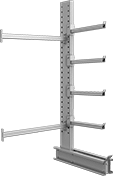 Add-On
Unit with One Usable Side
Complete Unit
Wd.

Ht.

Dp.

No.

of Storage
Levels
Arm Spacing


Ctr.-to-Ctr.

Arm


Lg.

Mounting
Fasteners
Included

Cap.

per
Storage


Level,

lbs.

Overall


Cap.,




lbs.

No.


of

Dia.

Each
42"
84"
31"
4
36"
18"
No
1,700
21,000
2

11/16

"
0000000
000000000
54"
84"
31"
4
48"
18"
No
1,700
21,000
2

11/16

"
00000000
00000000
54"
96"
37"
4
48"
24"
No
1,300
15,000
2

11/16

"
00000000
00000000
78"
120"
46"
6
72"
36"
No
850
11,400
2

11/16

"
00000000
00000000
Add-On Unit
Wd.

Ht.

Dp.

No.

of Storage
Levels
Arm Spacing


Ctr.-to-Ctr.

Arm


Lg.

Mounting
Fasteners
Included
Additional

Cap.


per Storage


Level,

lbs.

Additional
Overall


Cap.,

lbs.

No.


of

Dia.

Each
42"
84"
31"
4
36"
18"
No
850
10,500
1

11/16

"
000000000
0000000
54"
84"
31"
4
48"
18"
No
850
10,500
1

11/16

"
000000000
000000
54"
96"
37"
4
48"
24"
No
650
7,500
1

11/16

"
000000000
000000
78"
120"
46"
6
72"
36"
No
400
5,700
1

11/16

"
000000000
00000000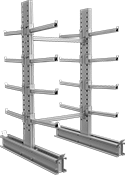 Complete Unit with Two Usable Sides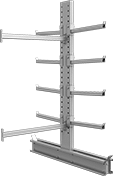 Add-On
Unit with Two Usable Sides
Complete Unit
Wd.

Ht.

Dp.

No.

of Storage
Levels
Arm Spacing


Ctr.-to-Ctr.

Arm


Lg.

Mounting
Fasteners
Included

Cap.

per
Storage


Level,

lbs.

Overall


Cap.,




lbs.

No.


of

Dia.

Each
42"
84"
53"
4
36"
18"
No
1,700
42,000
4

11/16

"
0000000
000000000
54"
84"
53"
4
48"
18"
No
1,700
42,000
4

11/16

"
00000000
00000000
54"
96"
65"
4
48"
24"
No
1,300
30,000
4

11/16

"
00000000
00000000
78"
120"
82"
6
72"
36"
No
850
22,800
4

11/16

"
00000000
00000000
Add-On Unit
Wd.

Ht.

Dp.

No.

of Storage
Levels
Arm Spacing


Ctr.-to-Ctr.

Arm


Lg.

Mounting
Fasteners
Included
Additional

Cap.


per Storage


Level,

lbs.

Additional
Overall


Cap.,

lbs.

No.


of

Dia.

Each
42"
84"
53"
4
36"
18"
No
850
21,000
2

11/16

"
000000000
0000000
54"
84"
53"
4
48"
18"
No
850
21,000
2

11/16

"
000000000
000000
54"
96"
65"
4
48"
24"
No
650
15,000
2

11/16

"
000000000
00000000
78"
120"
82"
6
72"
36"
No
400
11,400
2

11/16

"
000000000
00000000