Crossed
Right-Hand
Gear
and Crossed
Left-Hand
Gear
(Sold Separately)

Two Crossed
Gears
with
Right-Hand
Teeth
(Sold Separately)

Standard Gear on Gear Rack
(Sold Separately)

Gear with Keyed Bore and Set Screw

Gear with Round Bore
The helical teeth on these gears stay in contact for longer than straight teeth, which allows them to transmit higher loads at higher speeds than spur gears.
For gears to mesh correctly, they must have the same pressure angle and pitch. All of these gears transmit motion in a straight line—make sure to get one left-hand and one right-hand gear. To change speed and torque in your assembly, pair two gears with different numbers of teeth.
Standard helical components have a 21 1/2° helix angle so they only transmit motion in a straight line since the helix angle is so small. Made from alloy steel, these gears resist abrasion and are stronger than carbon steel gears. Their teeth are ground, so they're more precise than gears with rolled teeth. Pair them with a rack or a gear that has a different tooth direction.
Crossed helical gears, also known as screw gears, can be configured to transmit motion at a 90° angle. To transmit motion at a 90° angle, pair two gears with the same tooth direction. To avoid wearing down gears, which happens when you use the same material, we recommend mating gears with different materials. Made from carbon steel, these gears are strong, but not as strong as alloy steel gears.
Gears with hardened teeth have better wear resistance than gears with teeth that are not hardened.
For technical drawings and 3-D models, click on a part number.
Speed Reducers for
Position-

and

Speed-Control

Motors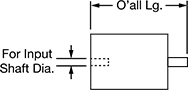 Pair these speed reducers with stepper and servo motors in position- and speed-control applications. Helical gears provide exact positioning and smoother travel than our other speed reducers. Attach to a motor to transmit motion parallel to the motor shaft while reducing speed and increasing torque. They meet IP65 for protection from washdowns.
Radial loads are loads that are perpendicular to the shaft. They're commonly caused by components attached to shaft, such as pulleys and sprockets.
For technical drawings and 3-D models, click on a part number.
Speed
Ratio
Torque

Speed,


rpm

Speed,


rpm
hp
For Input
Shaft


Dia.

Dia.

Lg.

Lg.

Wd.

Ht.

Radial Load


Capacity,




lbs.

Environmental
Rating
Each

For NEMA 23 Motor

3:1
240 in.-lbs. @ 1,750 rpm
2,000
6,000
2.89

1/4

"
0.38"
1"
4

1/2

"
2

1/2

"
2

1/2

"
348
IP65

00000000
0000000
5:1
345 in.-lbs. @ 1,750 rpm
1,200
6,000
3.24

1/4

"
0.38"
1"
4

1/2

"
2

1/2

"
2

1/2

"
348
IP65

00000000
000000
10:1
265 in.-lbs. @ 1,750 rpm
600
6,000
1.45

1/4

"
0.38"
1"
4

1/2

"
2

1/2

"
2

1/2

"
348
IP65

00000000
000000
20:1
345 in.-lbs. @ 1,750 rpm
300
6,000
1.08

1/4

"
0.38"
1"
5

3/4

"
2

1/2

"
2

1/2

"
348
IP65

00000000
00000000
50:1
345 in.-lbs. @ 1,750 rpm
120
6,000
0.46

1/4

"
0.38"
1"
5

3/4

"
2

1/2

"
2

1/2

"
348
IP65

00000000
00000000

For NEMA 34 Motor

3:1
743 in.-lbs. @ 1,750 rpm
1,833
5,500
6.75

1/2

"

1/2

"
1.25"
5

1/4

"
3

1/2

"
3

1/2

"
630
IP65

00000000
00000000
5:1
867 in.-lbs. @ 1,750 rpm
1,100
5,500
5.73

1/2

"

1/2

"
1.25"
5

1/4

"
3

1/2

"
3

1/2

"
630
IP65

00000000
00000000
10:1
797 in.-lbs. @ 1,750 rpm
550
5,500
3.04

1/2

"

1/2

"
1.25"
5

1/4

"
3

1/2

"
3

1/2

"
630
IP65

00000000
00000000
20:1
867 in.-lbs. @ 1,750 rpm
275
5,500
1.97

1/2

"

1/2

"
1.25"
7"
3

1/2

"
3

1/2

"
630
IP65

00000000
00000000
50:1
867 in.-lbs. @ 1,750 rpm
110
5,500
0.87

1/2

"

1/2

"
1.25"
7"
3

1/2

"
3

1/2

"
630
IP65

00000000
00000000