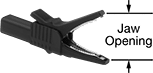 A

B

C

D

E

F

G

H

J

K
L

M

N

P
Test equipment that draws more than 10 amps of current. These clips are spring loaded to hold tight for hands-free testing.
Flat alligator clips create a more secure connection than clips with standard alligator jaws. Toothed clips have a stronger grip but make less overall contact than toothless clips.
304 stainless steel clips are corrosion resistant. Copper clips conduct electricity better than 304 stainless steel clips.
Clips with a piercing needle cut into the wire's insulation to make contact with the wire while leaving the rest of the insulation intact.
Clips with easy-open handles need 75% less force to open compared to other clips, yet have the same grip strength. That means you can use them all day without tiring.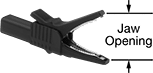 A

B
Wire
Connection
Clip
Material
Insulation
Style
Jack
Connection


Size,

mm
Jaw
Opening
Tooth
Style

Current,


A

Lg.

Spring
Material
Specifications
Met
Features
Choose
a
Color
Each

Toothed

A
Banana Jack
Nickel-Plated Steel
Molded
4

3/4

"
Toothed
30
3

9/32

"
Zinc-Plated Steel
UL Listed

__
00000000
00000
B
1/4" Male Quick-Connect Terminal
304 Stainless Steel
Molded
__
0.63"
Toothed
30
3

5/32

"
Steel
__
Quick-Connect Terminal
00000000
0000

C

D

E

F

G

H

J

K
L

M

N

P
Wire
Connection
Clip
Material
Insulation
Style
Screw
Connection
Thread Size

Jaw
Opening
Tooth
Style

Current,


A

Lg.

Spring
Material
Features
Each
Each

Toothed

C
Crimp, Screw-Down
Zinc-Plated Steel
Noninsulated
6-32

5/8

"
Toothed
20
2

7/16

"
Zinc-Plated Steel
__
0000000
00000
00000000
00000
C
Crimp, Screw-Down
304 Stainless Steel
Noninsulated
6-32

5/8

"
Toothed
20
2

7/16

"
Stainless Steel
__
00000000
0000
00000000
0000
C
Crimp, Screw-Down
Copper
Noninsulated
6-32

5/8

"
Toothed
40
2

7/16

"
Stainless Steel
__
0000000
0000
00000000
0000
C
Crimp, Screw-Down
Copper
Noninsulated
6-32

5/8

"
Toothed
40
2

7/16

"
Zinc-Plated Steel
__
0000000
0000
00000000
0000
D
Crimp, Screw-Down
Zinc-Plated Steel
Noninsulated
8-32

3/4

"
Toothed
40
3"
Stainless Steel
__
0000000
0000
00000000
0000
D
Crimp, Screw-Down
304 Stainless Steel
Noninsulated
8-32

3/4

"
Toothed
40
3"
Stainless Steel
__
00000000
0000
00000000
0000
D
Crimp, Screw-Down
Copper
Noninsulated
8-32

3/4

"
Toothed
75
3"
Stainless Steel
__
0000000
0000
00000000
0000
E
Crimp, Screw-Down
Zinc-Plated Steel
Noninsulated
8-32

3/4

"
Toothed
25
2

27/32

"
Zinc-Plated Steel
__
0000000
0000
00000000
0000
F
Crimp, Screw-Down
304 Stainless Steel
Noninsulated
10-32

1

1/16

"
Toothed
50
4

3/32

"
Stainless Steel
__
0000000
00000
0000000
0000
G
Solder
Copper
Noninsulated
__
1

1/16

"
Toothed
100
4

5/16

"
Stainless Steel
__
0000000
00000
0000000
0000
H
Crimp, Screw-Down
Copper
Noninsulated
6-32

1/2

"
Toothed
20
2"
Zinc-Plated Steel
__
0000000
0000
00000000
000
J
Crimp, Solder
Copper
Noninsulated
__
1

13/16

"
Toothed
300
7

3/4

"
Steel
__
0000000
00000
00000000
00000
K
Crimp, Screw-Down
Copper
Noninsulated
__

1/2

"
Toothed
20
2

9/32

"
Zinc-Plated Steel
Piercing Needle
00000000
0000
00000000
000
L
Crimp, Screw-Down
Zinc-Plated Steel
Noninsulated
__
1"
Toothed
40
3"
Zinc-Plated Steel
__
00000000
0000
00000000
0000

Toothless

M
Crimp, Screw-Down
Zinc-Plated Steel
Noninsulated
__
1

5/8

"
Toothless
100
6"
Zinc-Plated Steel
__
0000000
00000
00000000
0000
M
Crimp, Screw-Down
304 Stainless Steel
Noninsulated
__
1

5/8

"
Toothless
100
6"
Stainless Steel
__
00000000
00000
00000000
0000
M
Crimp, Screw-Down
Copper
Noninsulated
__
1

5/8

"
Toothless
200
6"
Zinc-Plated Steel
__
0000000
00000
00000000
0000
M
Crimp, Screw-Down
Copper
Noninsulated
10-32

1

1/16

"
Toothless
100
4

1/2

"
Zinc-Plated Steel
__
0000000
00000
0000000
0000
N
Crimp, Screw-Down
Zinc-Plated Steel
Noninsulated
10-32

1

1/16

"
Toothless
50
4

1/2

"
Zinc-Plated Steel
__
0000000
0000
0000000
0000
P
Crimp, Screw-Down
Zinc-Plated Steel
Noninsulated
10-32

1

1/16

"
Toothless
50
4

1/2

"
Zinc-Plated Steel
Easy-Squeeze Handles
00000000
00000
000000
00
P
Crimp, Screw-Down
Copper
Noninsulated
10-32

1

1/16

"
Toothless
100
4

1/2

"
Zinc-Plated Steel
Easy-Squeeze Handles
00000000
00000
000000
00