How to

Identify and Measure Fittings
Pipe size is an industry designation, not the actual size. View information about how to measure threaded and unthreaded pipe and pipe fittings.
Push-to-Connect

Fittings for Plastic

Tubing—

High-Purity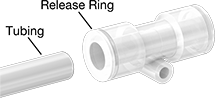 For Use

With:

Air,

Nitrogen,

Water
Temperature

Range:

32° to 100° F

Tubing:

Use with polypropylene plastic
Also known as instant fittings, these connect to tubing with a push, and an internal gripping ring and O-ring hold the tubing tight. To disconnect, push on the release ring and pull the tubing out of the fitting. Fittings are produced in a clean room and are double bagged to prevent dirt and moisture from contaminating the inside. They are polypropylene, which has excellent impact and abrasion resistance.
For technical drawings and 3-D models, click on a part number.