About Sealant Flexibility
Vacuum Leak Sealants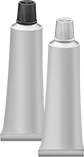 Also known as Torr Seal, this sealant forms a rigid bond to seal leaks on vacuum systems and components.
Size,




fl.




oz.

Type
Begins
to
Harden
Reaches
Full
Strength
Vacuum


Rating,


torr
Maximum
Vacuum @
Temperature
Tensile


Strength,


psi

Hardness
Mix
Ratio

Temp.




Range,




°F

For
Joining
Color
Each

Epoxy

4.2
Tube
60 min.
3 days
High
10⁻⁹ torr @ 72° F
5,000
Extra Hard (Durometer 75D)
2:1
-45° to 245°
Metal, Glass, Masonry
Off-White
0000000
0000000
Vacuum Seal and
O-Ring

Grease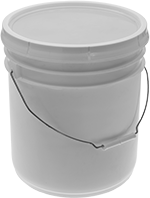 A firm consistency and resistance to evaporation make this grease ideal for vacuum applications, such as flow meters, vacuum and pressure systems, and laboratory equipment. Apply directly to seals and O-rings to prevent drying and cracking.
NLGI viscosity grade is a rating of a grease's consistency. NLGI 1 is about the consistency of tomato paste. NLGI 2 is about the consistency of peanut butter. NLGI 3 is about the consistency of vegetable shortening and is comparable to Fomblin grease.
Grease with PTFE thickener resists aggressive acids, bases, and solvents. Chemours Krytox™ 240 grease is long lasting with an indefinite shelf life.
Grease lubricates most efficiently below the maximum temperature. Melting temperature is the point at which grease will fail and run out of equipment, leaving it to run dry. Nonmelting grease can be used at temperatures above the maximum temperature briefly, but then will break down more quickly.
Each
NLGI
Viscosity
Grade
Base
Oil

Size,




fl.




oz.

Net


Weight,




lbs.

Type

Temp.




Range,




°F

Melting


Temp.,




°F

Maximum
Vacuum @
Temperature
Color
Specifications
Met
Each

DuPont Molykote High Vacuum

Grease—

Silica Thickener

2.5
Synthetic
__
8
Pail
-40° to 400°
Nonmelting
10^-6 torr @ 72° F
White
__
0000000
0000000
2.5
Synthetic
5.3
__
Tube
-40° to 400°
Nonmelting
10^-6 torr @ 72° F
White
__
0000000
00000

Chemours Krytox™ 240AB Type

II—

PTFE Thickener

2
Synthetic

1/2

__
Tube
-40° to 450°
Not Rated
5×10^-6 torr @ 100° F
White
MIL-PRF-27617
00000000
00000
2
Synthetic
2
__
Tube
-40° to 450°
Not Rated
5×10^-6 torr @ 100° F
White
MIL-PRF-27617
00000000
000000

Chemours Krytox™ 240AZ Type

I—

PTFE Thickener

1
Synthetic

1/2

__
Tube
-70° to 300°
Nonmelting
4×10^-4 torr @ 100° F
White
MIL-PRF-27617
00000000
00000
1
Synthetic
2
__
Tube
-70° to 300°
Nonmelting
4×10^-4 torr @ 100° F
White
MIL-PRF-27617
00000000
000000

PTFE Thickener

3
Synthetic
3

1/2

__
Tube
0° to 480°
525°
7.5×10^-4 torr @ 72° F
White
__
0000000
000000
Package
NLGI Viscosity
Grade
Base Oil

Size,




fl.

oz.

Type

Temp.




Range,

°F

Melting


Temp.,

°F

Maximum Vacuum
@ Temperature
Color

Pkg.




Qty.

Pkg.

DuPont Molykote High Vacuum

Grease—

Silica Thickener

2.5
Synthetic
5.3
Tube
-40° to 400°
Nonmelting
10^-6 torr @ 72° F
White
12
00000000
0000000