Adjustable Hinges with Holes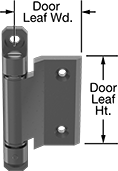 1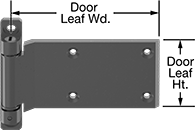 2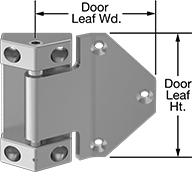 3
Turn a set screw to adjust the door up or down after it's hung. These hinges have a nonremovable pin to deter tampering.
Black powder-coated zinc hinges are best for mostly dry environments. They have mild corrosion resistance.
Stainless steel hinges resist corroding even in wet environments.
For technical drawings and 3-D models, click on a part number.
For
Door


Thick.

Ht.

Wd.

Ht.

Wd.

O'all




Wd.

Leaf


Thick.

Range
of
Motion

Max.


Adjustability
Pin


Dia.

Pin
Material
Mounting
Fasteners
Included

No.

of
Mounting
Holes
Mounting
Hole
Style
Mounting
Screw
Size

Each
1

3/4

"
2

3/8

"
1

7/16

"
3

15/16

"

5/8

"
2

1/16

"
0.250"
180°

1/8

"

1/4

"
Brass
No
4
Countersunk
M5

00000000
000000
2

3/4

"
2

3/8

"
4

3/4

"
3

15/16

"

5/8

"
5"
0.250"
180°

1/8

"

1/4

"
Brass
No
6
Countersunk
M5

00000000
00000
3

3/4

"
3

15/16

"
3

1/2

"
3

15/16

"
2

1/16

"
4

1/2

"
0.250"
180°

5/16

"

3/8

"
Stainless Steel
No
7
Countersunk
M6

00000000
000000