Clean Room Hinges

With Nonremovable Pin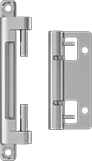 With
Quick-Disconnect
Pin
Keep environments free of contaminants—plastic bushings on these metal hinges prevent metal-to-metal contact that can release particles as hinges open and close.
Hinges with a nonremovable pin deter tampering.
Hinges with a quick-disconnect pin make it easy to remove your door from its frame. These hinges come in two parts—one for the door and one for the frame—that you join and take apart without any special tools.
For technical drawings and 3-D models, click on a part number.
Ht.

Wd.

Ht.

Wd.

O'all




Wd.

Leaf


Thick.

Range
of
Motion
Pin


Dia.

Pin
Travel
Pin
Material
Mounting
Fasteners
Included
Straight
Countersunk
Mounting
Screw
Size
Each

Nonremovable Pin

2

9/16

"
1

3/16

"
2

9/16

"
1

3/16

"
2

3/8

"
0.137"
270°

13/64

"
__
304 Stainless Steel
No
4
__
No. 12
000000
000000
3

15/16

"
1

3/16

"
3

15/16

"
1

3/16

"
2

3/8

"
0.137"
270°

13/64

"
__
304 Stainless Steel
No
6
__
No. 12
000000
00000
3

1/16

"
1

1/4

"
5

1/16

"

7/8

"
1

11/32

"
0.079"
120°

1/4

"

3/8

"
316 Stainless Steel
No
2
2
M5
000000
00000