About
U-Joints
(Universal Joints)
U-joints are used to connect two shafts that have a high amount of misalignment.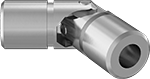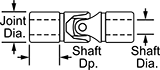 To connect, drill a hole through the joint and shaft and insert a spring pin (not included).
Steel U-joints are stronger than zinc U-joints. They have grooves for holding protective boots (not included). Zinc U-joints are for hand-powered, low-speed applications.
For technical drawings and 3-D models, click on a part number.
Dia.

Dp.

Joint


Dia.

Overall


Lg.

Max.


Operating
Angle

Max.




Speed,


rpm

Max.




Torque,




in.-lbs.

3°


Operating
Angle

10°


Operating
Angle
Joint
Type
Each

Steel

1/4

"

5/8

"

1/2

"
2"
25°
1,750
375
150 in.-lbs. @ 300 rpm
51 in.-lbs. @ 300 rpm
Pin and Block
0000000
0000000

5/16

"

11/16

"

5/8

"
2

1/4

"
25°
1,750
540
245 in.-lbs. @ 300 rpm
83 in.-lbs. @ 300 rpm
Pin and Block
0000000
000000

3/8

"

7/8

"

3/4

"
2

11/16

"
25°
1,750
765
330 in.-lbs. @ 300 rpm
110 in.-lbs. @ 300 rpm
Pin and Block
0000000
000000

7/16

"

7/8

"

7/8

"
3"
25°
1,750
1,175
445 in.-lbs. @ 300 rpm
150 in.-lbs. @ 300 rpm
Pin and Block
0000000
000000

1/2

"
1"
1"
3

3/8

"
25°
1,750
1,560
595 in.-lbs. @ 300 rpm
200 in.-lbs. @ 300 rpm
Pin and Block
0000000
000000

9/16

"
1"
1

1/8

"
3

1/2

"
25°
1,750
2,880
785 in.-lbs. @ 300 rpm
260 in.-lbs. @ 300 rpm
Pin and Block
0000000
000000

5/8

"
1

1/16

"
1

1/4

"
3

3/4

"
25°
1,750
5,220
980 in.-lbs. @ 300 rpm
330 in.-lbs. @ 300 rpm
Pin and Block
0000000
000000

3/4

"
1

3/16

"
1

1/2

"
4

1/4

"
25°
1,750
7,920
1,425 in.-lbs. @ 300 rpm
480 in.-lbs. @ 300 rpm
Pin and Block
0000000
000000

7/8

"
1

3/8

"
1

3/4

"
5"
25°
1,750
10,680
2,005 in.-lbs. @ 300 rpm
675 in.-lbs. @ 300 rpm
Pin and Block
0000000
000000
1"
1

1/2

"
2"
5

7/16

"
25°
1,750
15,600
2,635 in.-lbs. @ 300 rpm
885 in.-lbs. @ 300 rpm
Pin and Block
0000000
000000
1

1/4

"
2"
2

1/2

"
7"
25°
1,750
33,120
3,950 in.-lbs. @ 300 rpm
1,330 in.-lbs. @ 300 rpm
Pin and Block
0000000
000000
1

1/2

"
2

3/4

"
3"
9

1/16

"
25°
1,750
65,400
5,750 in.-lbs. @ 300 rpm
1,940 in.-lbs. @ 300 rpm
Pin and Block
0000000
00000000
10mm

7/8

"

7/8

"
3"
25°
1,750
1,175
445 in.-lbs. @ 300 rpm
150 in.-lbs. @ 300 rpm
Pin and Block
00000000
000000
12mm

7/8

"

3/4

"
2

11/16

"
25°
1,750
765
330 in.-lbs. @ 300 rpm
110 in.-lbs. @ 300 rpm
Pin and Block
00000000
000000
14mm
1"
1"
3

3/8

"
25°
1,750
1,560
595 in.-lbs. @ 300 rpm
200 in.-lbs. @ 300 rpm
Pin and Block
00000000
000000
16mm × 20mm
1

1/16

"
1

1/4

"
3

3/4

"
25°
1,750
5,220
980 in.-lbs. @ 300 rpm
330 in.-lbs. @ 300 rpm
Pin and Block
00000000
000000
20mm
1

1/16

"
1

1/4

"
3

3/4

"
25°
1,750
5,220
980 in.-lbs. @ 300 rpm
330 in.-lbs. @ 300 rpm
Pin and Block
00000000
000000

Zinc

1/4

"

9/16

"

9/16

"
2"
15°
Not Rated
150
Not Rated
Not Rated
Pin and Block
000000
00000

5/16

"

9/16

"

9/16

"
2"
15°
Not Rated
125
Not Rated
Not Rated
Pin and Block
000000
00000

3/8

"

7/8

"

13/16

"
2

7/8

"
15°
Not Rated
75
Not Rated
Not Rated
Pin and Block
000000
00000

1/2

"

7/8

"

13/16

"
2

7/8

"
15°
Not Rated
75
Not Rated
Not Rated
Pin and Block
000000
00000

5/8

"

15/16

"
1

1/8

"
3

1/4

"
15°
Not Rated
500
Not Rated
Not Rated
Pin and Block
000000
00000

3/4

"

15/16

"
1

1/8

"
3

1/4

"
15°
Not Rated
500
Not Rated
Not Rated
Pin and Block
000000
00000