Strut Channel Hinges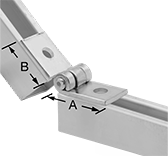 Range of Motion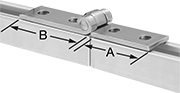 Provide smooth motion between two pieces of strut channel. The range-of-motion angle is for strut channel with flat ends. To achieve a maximum angle of 270°, cut the joint end of each strut channel at a 45° angle.
Zinc-plated steel hinges are more corrosion resistant in wet environments than powder-coated steel.
For technical drawings and 3-D models, click on a part number.
Number
of Holes
Range
of Motion
For Strut
Channel

Wd.

(A)

(B)

Thick.

Hole


Dia.

Fasteners
Included
Each
2
135°
1

5/8

"
2

1/8

"
2

1/8

"

1/4

"

9/16

"
No
0000000
000000
3
135°
1

5/8

"
4"
2

1/8

"

1/4

"

9/16

"
No
0000000
00000
3
180°
1

5/8

"
4"
2

1/8

"

1/4

"

9/16

"
No
0000000
00000
4
180°
1

5/8

"
4"
4"

1/4

"

9/16

"
No
0000000
00000

Green

Powder-Coated

Steel

2
135°
1

5/8

"
2

1/8

"
2

1/8

"

1/4

"

9/16

"
No
0000000
00000
3
135°
1

5/8

"
4"
2

1/8

"

1/4

"

9/16

"
No
0000000
00000
3
180°
1

5/8

"
4"
2

1/8

"

1/4

"

9/16

"
No
0000000
00000
4
180°
1

5/8

"
4"
4"

1/4

"

9/16

"
No
0000000
00000