About Rod Ends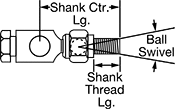 With a ball joint at the top of the shank, these rod ends pivot in the middle of the body instead of in the eyelet. Use them for linear push applications that require movement along the length of the connecting rod. Also known as control swivels, they provide an excellent pivoting connection between light mechanical components while constraining excess play. A rubber disc dampens vibration.
Rod ends with set screw, nut, and lock washer have a self-locking set screw and integral nut with lock washer for added holding strength.
For technical drawings and 3-D models, click on a part number.
Shank
Thread
Size

Shank
Center


Lg.

Shank
Thread


Lg.

ID

O'all




Dia.

O'all




Wd.

O'all




Thick.

For
Connecting
Rod OD

Max.


Ball
Swivel

Temp.




Range,




°F

Material
Shank
Thread
Direction
Each

Ball Joints

1/4

"-28

1

5/16

"

1/2

"

1/4

"
__

3/8

"

3/8

"

1/4

",

5/16

"
30°
-60° to 250°
Zinc-Plated Carbon Steel
Right Hand
0000000
00000

Ball Joints with Set

Screw,

Nut,

and Lock Washer

10-32

1

1/16

"

1/4

"

5/16

"

1/2

"
__
__

1/4

",

5/16

"
30°
-60° to 250°
Zinc-Plated Carbon Steel
Right Hand
0000000
0000

1/4

"-20

1

3/16

"

5/16

"

5/16

"

1/2

"
__
__

1/4

",

5/16

"
30°
-60° to 250°
Zinc-Plated Carbon Steel
Right Hand
0000000
0000

1/4

"-28

1

3/16

"

5/16

"

5/16

"

1/2

"
__
__

1/4

",

5/16

"
30°
-60° to 250°
Zinc-Plated Carbon Steel
Right Hand
0000000
0000

1/4

"-28

1

5/16

"

1/2

"

5/16

"

1/2

"
__
__

1/4

",

5/16

"
30°
-60° to 250°
Zinc-Plated Carbon Steel
Right Hand
0000000
0000

5/16

"-24

1

3/8

"

17/32

"

5/16

"

1/2

"
__
__

1/4

",

5/16

"
30°
-60° to 250°
Zinc-Plated Carbon Steel
Right Hand
0000000
0000