Made-to-Order

High-Temperature

Graphite Gaskets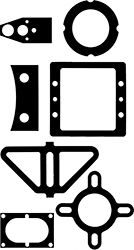 When you need a unique shape or size graphite gasket, we will precision cut one for you using your DXF file. This material, also known as Hochdruck, is graphite with stainless steel layers for added strength in hot environments.
First select a thickness, then select a sheet size that's large enough to accommodate your gasket. Gasket cross section and bolt hole diameter must be at least 0.187". Finally, send us your DXF file. Depending on the size of your gasket, we'll send you as many same-design gaskets as a sheet will yield, up to 20 gaskets for 12"×12" sheets, and up to 40 gaskets for 24"×24" sheets.
High-Temperature

High-Pressure

Graphite Gasket Material
These sheets and discs can withstand temperatures up to 850° F and pressure up to 2,000 psi. Use them when a strong seal is required in boilers and furnaces. Cut with a utility knife.
Discs are graphite with stainless steel layers; this high-strength material is commonly known as Hochdruck.
For technical drawings and 3-D models, click on a part number.