Replacement Parts for Electric Chain Hoists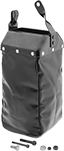 Chain Container
Minimize your downtime—original manufacturer parts keep your hoist in operation.
Dual-Brake

Electric Chain Hoists
These hoists have a disc friction brake as well as a mechanical brake for added protection to stop the load and hold it in place when you're not lifting. Use the handheld control to effortlessly lift your load. Overload protection prevents hoists from operating if the load exceeds capacity.
Hardwire hoists have a power cord but do not include a plug (view our offering of plugs).
For replacement parts, see Replacement Parts for Electric Chain Hoists.
Warning: Never use to lift people or items over people.
tons

lbs.

Lifting


Speed,


fpm
Clearance
Hook
Opening


Wd.

Body
Material
Features
For
Use
Outdoors
Specifications
Met
Choose a
Voltage


(Electrical Connection Type)

20-ft.


Lift

30-Min.

Max.

Continuous Run

(50%

Lifting/Lowering,

50%

Rest)

CM Budgit Man Guard

3

1/4

6,600
5
26"
1

1/2

"
Aluminum
Overload Protection
Yes
ASME B30.16, ASME HST-1, CSA B167
0000000