System of Measurement

System of Measurement
For Hole Diameter

For Hole Diameter
Show
Punching Action

Punching Action
Individual/Set

Individual/Set
REACH (Registration, Evaluation, Authorization and Restriction of Chemicals)

REACH

(Registration,




Evaluation,

Authorization
and Restriction of

Chemicals)
RoHS (Restriction of Hazardous Substances)

RoHS

(Restriction

of
Hazardous

Substances)
DFARS (Defense Acquisition Regulations Supplement)

DFARS

(Defense

Acquisition

Regulations

Supplement)
Container Type

Container Type
Hammer-Driven

Hole Punches

Strengthened edges cut holes in soft metal. These punches are also known as arch punches.
For technical drawings and 3-D models, click on a part number.
For Hole


Dia.

Lg.

Material
Each

For Use On

Brass,

Copper,

Fabric,

Leather,

Rubber

46mm
7

1/8

"
Steel
0000000
0000000
One-Step

Hammer-Driven

Gasket and Washer Punch Sets
Attach two punch heads to the handle at the same time to punch a gasket or washer in a single strike.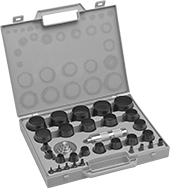 Includes
For Hole

Dia.

Material
Container Type
Each

For Use On

Aluminum,

Cork,

Fabric,

Leather,

Plastic,

Rubber

29 Punches, Handle
2mm, 3mm, 4mm, 5mm, 6mm, 7mm, 8mm, 9mm, 10mm, 12mm, 14mm, 16mm, 18mm, 20mm, 22mm, 24mm, 26mm, 28mm, 30mm, 32mm, 34mm, 36mm, 38mm, 40mm, 42mm, 44mm, 46mm, 48mm, 50mm
Steel
Plastic Case
00000000
0000000