Threaded-Stud

Hooks with

Spring-Close

Locking

Latch—

For Lifting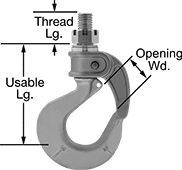 Screw these hooks into place and secure with the included nut. They can be easily shut with one hand and have a spring-loaded latch that swings 150° and snaps back in place to secure your load.
Note: Capacities are for vertical lifting only.
For technical drawings and 3-D models, click on a part number.
Capacity,




lbs.

Opening


Wd.

Usable


Lg.

Size

Lg.

Fabrication
Latch
Type
Locking
Latch
Type

Max.




Temperature,




° F

Specifications
Met
Includes
Each
Each
2,000
1"
3

3/8

"

1/2

"-13

9/16

"
Forged
Locking
Spring Close
199°
ASME B30.10
Nut
0000000
0000000
0000000
0000000
2,800
1

1/16

"
3

11/16

"

9/16

"-12

3/4

"
Forged
Locking
Spring Close
199°
ASME B30.10
Nut
0000000
000000
0000000
000000
3,400
1

1/8

"
3

7/8

"

5/8

"-11

1

3/16

"
Forged
Locking
Spring Close
199°
ASME B30.10
Nut
0000000
000000
0000000
000000
4,600
1

1/4

"
4

1/2

"

3/4

"-10

1"
Forged
Locking
Spring Close
199°
ASME B30.10
Nut
0000000
000000
0000000
000000
8,000
1

3/8

"
4

7/8

"

7/8

"-9

1

3/16

"
Forged
Locking
Spring Close
199°
ASME B30.10
Nut
0000000
000000
0000000
000000
8,400
1

1/2

"
5

3/16

"
1"-8

1

3/8

"
Forged
Locking
Spring Close
199°
ASME B30.10
Nut
0000000
000000
0000000
000000
11,000
1

3/4

"
5

1/2

"
1

1/8

"-7

1

1/2

"
Forged
Locking
Spring Close
199°
ASME B30.10
Nut
0000000
000000
0000000
000000
14,400
1

7/8

"
6

1/16

"
1

1/4

"-7

1

13/16

"
Forged
Locking
Spring Close
199°
ASME B30.10
Nut
0000000
000000
0000000
000000