Sanitary Metal Funnels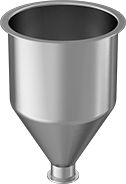 Funnel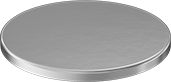 Lid
Often used with filling machines, storage tanks, dispensers, and injection-molding hopper bins in food, cosmetic, and pharmaceutical plants, these funnels have a sanitary design. Removing them for cleaning is easy thanks to their quick-clamp tube fitting. You'll need to connect this fitting to a quick-clamp tube fitting and gasket on your machine or tank.
304 stainless steel funnels resist corrosion from frequent washdowns with cleaners and sanitizers.
316 stainless steel funnels are more corrosion resistant than 304 stainless steel funnels. They withstand washdowns with harsh cleaners and sanitizers. Their polished surfaces make them easier to clean and their seams are continuously welded and smooth. There aren't any leaky cracks or crevices for bacteria to grow in. This helps prevent the spread of foodborne illnesses.
For technical drawings and 3-D models, click on a part number.
Rotary Feeders for Powder and Bulk Material
Transfer dry material from storage containers into air-powered conveyors and other pressurized systems. As the rotor's eight vanes turn, the pockets between the vanes fill with material from the inlet and then dispense material through the outlet. Controlled by a built-in electric motor, this movement delivers bulk material in a controlled manner while maintaining pressure differential between the inlet and outlet. The rectangular flanges have standard bolt holes, so these feeders fit into most air-powered systems. Included neoprene gaskets are sized to fit the flanges to form a tight seal. To calculate the fixed displacement rate needed for your application, divide your material movement (lbs./hr.) by product density (lbs./cu. ft.).
316 stainless steel feeders have excellent corrosion resistance, so they're a good choice for handling abrasive or corrosive material.
For technical drawings and 3-D models, click on a part number.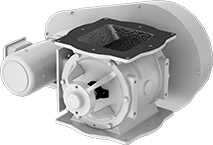 Rotary Feeder
Fixed Displacement


Rate,




cu.

in./rev.

Manufacturer
Model
Number

Lg.

Wd.

Ht.

Lg.

Wd.

Lg.

Wd.

Dia.

Lg.

Wd.

Dp.

Key
Included

Max.




Temp.,




°F

Max.




Pressure,


psi
Voltage
Each

Polyurethane-Coated

Cast Iron

207
PAV6
27

1/4

"
21

1/16

"
16

3/4

"
6"
6"
6"
6"
1"
2

1/2

"
0.25"
0.125"
Yes
500°
12
230V/460V AC
0000000
000000000
414
PAV8
27

1/4

"
23

1/16

"
16

3/4

"
8"
8"
8"
8"
1

3/16

"
3"
0.25"
0.125"
Yes
500°
12
230V/460V AC
0000000
00000000
732
PAV10
27

1/4

"
25

3/4

"
16

3/4

"
10"
10"
10"
10"
1

7/16

"
3

1/2

"
0.375"
0.188"
Yes
500°
12
230V/460V AC
0000000
00000000

316 Stainless Steel

207
PAV6
27

1/4

"
21

1/16

"
16

3/4

"
6"
6"
6"
6"
1"
2

1/2

"
0.25"
0.125"
Yes
500°
12
230V/460V AC
0000000
00000000
414
PAV8
27

1/4

"
23

1/16

"
16

3/4

"
8"
8"
8"
8"
1

3/16

"
3"
0.25"
0.125"
Yes
500°
12
230V/460V AC
0000000
00000000
732
PAV10
27

1/4

"
25

3/4

"
16

3/4

"
10"
10"
10"
10"
1

7/16

"
3

1/2

"
0.375"
0.188"
Yes
500°
12
230V/460V AC
0000000
00000000