Sanitary Metal Funnels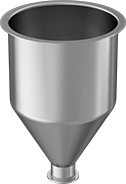 Funnel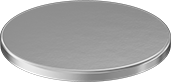 Lid
Often used with filling machines, storage tanks, dispensers, and injection-molding hopper bins in food, cosmetic, and pharmaceutical plants, these funnels have a sanitary design. With polished surfaces and smooth welded seams, they're easy to clean and free of crevices where bacteria could grow, reducing the risk of foodborne illness. Removing them for cleaning is easy thanks to their quick-clamp tube fitting. You'll need to connect this fitting to a quick-clamp tube fitting and gasket on your machine or tank.
304 stainless steel funnels resist corrosion from frequent washdowns with cleaners and sanitizers.
316 stainless steel funnels are more corrosion resistant than 304 stainless steel funnels. They withstand washdowns with harsh cleaners and sanitizers.
Lids for 304 stainless steel funnels are not polished. Those for 316 stainless steel funnels are polished.
For technical drawings and 3-D models, click on a part number.