How to

Identify and Measure Fittings
Pipe size is an industry designation, not the actual size. View information about how to measure threaded and unthreaded pipe and pipe fittings.
Quick-Disconnect

Couplings for Plastic and Rubber

Tubing—

Chemicals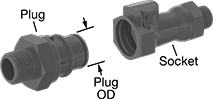 For Use

With:

Ammonia,

Ethanol,

Phosphoric Acid

(70%),

Sodium Carbonate
Temperature

Range:

32° to 160° F
Couplings consist of a plug and a socket (sold separately) that join with a latch, so you can frequently connect and disconnect your line. To connect, insert the plug into the socket; to disconnect, press the latch on the socket and remove the plug. Plugs and sockets are polypropylene, which has excellent chemical, impact, and abrasion resistance.
Plugs and sockets with shut-off have a valve to stop the flow when the coupling is separated so fluid won't spill from your line.
Note: For a complete coupling, order a plug and a socket with the same coupling size.
For technical drawings and 3-D models, click on a part number.