How to

Identify and Measure Fittings
Pipe size is an industry designation, not the actual size. View information about how to measure threaded and unthreaded pipe and pipe fittings.
Easy-Access

UV-Resistant

Polypropylene Pipe Fittings for Chemicals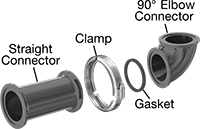 For Use

With:




Fittings:

Acetic Acid

(5%),

Calcium

Chloride,

Hydrochloric Acid

(10%),

Phosphoric Acid

(85%),

Salt

Water,

Sodium

Hydroxide,

Sulfuric Acid

(30%),

Water


Gaskets:

See Gaskets
Temperature

Range:




Fittings:

0° to 150° F




Gaskets:

See Gaskets
Also known as manifold flange fittings, these have a clamp-together design that lets you access your line for routine maintenance. Connect the flanged end to another quick-clamp fitting with a clamp and a gasket (all sold separately). Fittings are polypropylene, which resists a wide variety of acids, solvents, and other harsh chemicals. The fittings won't deteriorate when exposed to the damaging effects of ultraviolet light, so they're suitable for outdoor use.
Warning: Never use plastic pipe fittings and pipe with compressed air or gas.
Sealants cannot be sold to Colorado, Connecticut, District of Columbia, Delaware, Illinois, Indiana, Massachusetts, Maryland, Maine, Michigan, New Hampshire, New Jersey, Northern Virginia, New York, Ohio, Pennsylvania, Rhode Island, or Utah due to local VOC (Volatile Organic Compounds) regulations.
Straight Adapters, Quick Clamp × Barbed Hose

Fittings with a barbed end slide into hose and secure with a bolt clamp.
Pipe
Size

Flange
OD
For
Hose ID
Material
Color

Max.

Pressure
Each
2

3

9/32

"
1

1/2

"
Polypropylene Plastic

Black
300 psi @ 72° F
0000000
00000
2

3

19/64

"
1"
Polypropylene Plastic

Black
300 psi @ 72° F
0000000
0000
2

3

19/64

"
2"
Polypropylene Plastic

Black
300 psi @ 72° F
0000000
0000
3

4

13/32

"
2"
Polypropylene Plastic

Black
125 psi @ 72° F
0000000
00000
3

4

13/32

"
3"
Polypropylene Plastic

Black
200 psi @ 72° F
0000000
00000
90° Elbow Adapters, Quick Clamp × Barbed Hose

For Pipe
Size

For Flange
OD
OD
ID

Thick.

Color

Temp.




Range,

° F

For Use With
Each

EPDM Rubber

2

3

19/64

"
2

5/8

"
2.188"

1/4

"
Black
0° to 300°
Acetic Acid (5%), Calcium Chloride, Hydrochloric Acid (10%), Phosphoric Acid (85%), Salt Water, Water
0000000
00000
3

4

13/32

"
3.719"
3.188"

1/4

"
Black
0° to 300°
Acetic Acid (5%), Calcium Chloride, Hydrochloric Acid (10%), Phosphoric Acid (85%), Salt Water, Water
0000000
0000

Viton® Fluoroelastomer Rubber

2

3

19/64

"
2

5/8

"
2"

1/4

"
Black
0° to 400°
Acetic Acid (5%), Calcium Chloride, Hydrochloric Acid (10%), Phosphoric Acid (85%), Salt Water, Sulfuric Acid (30%), Water
0000000
00000
3

4

13/32

"
3.719"
3"

1/4

"
Black
0° to 400°
Acetic Acid (5%), Calcium Chloride, Hydrochloric Acid (10%), Phosphoric Acid (85%), Salt Water, Sulfuric Acid (30%), Water
0000000
00000