Coolant Hose

Temperature

Range:

0° to 210° F

Material:

Buna-N Rubber

Color:

Black with Green Stripe

For Clamp

Type:

Worm Drive
Commonly known as radiator hose, this hose is for low-pressure coolant applications.
ID
OD

Max.

Pressure

Max.

Continuous


Lg.,

ft.

1-24

25-Up

2

5/8

"
3"
35 psi @ 72° F
25
00000000
000000
000000
High-Temperature

Rigid Metal Duct Hose for Fumes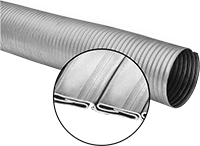 Rigid
Compatible

Clamps:

U-Bolt Clamps

Max.

Temperature:

Galvanized

Steel:

750° F;

Aluminum:

450° F;

304 Stainless

Steel:

1500° F;

316 Stainless

Steel:

1200° F
Metal interlocked strips create a rigid, durable hose that stays strong under high temperatures. Hose is for use with smoke, welding fumes, and oil fumes.
Galvanized steel offers fair corrosion resistance.
Hook-and-Loop

Wrap-Around

Sleeving for Universal Robots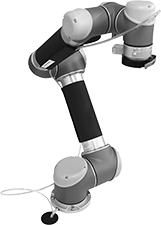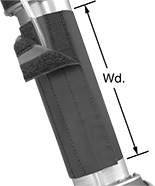 Organize and protect the cables and tubing on your Universal Robots arm without hindering its movement. This sleeving is made for Universal Robots arms, so you don't need to measure, cut, or customize for a good fit. The hook-and-loop closure makes installation quick, and unlike cable ties, it's easy to detach and adjust. Cables run through a separate channel, so you can access them without removing the sleeving from your arm. Made from polyurethane, this sleeving is flexible enough for cables and tubing to move easily, and durable enough to withstand continuous movement. It's also lighter than hose carriers and conduit, so it won't weigh down your robot arm. Each includes two pieces of sleeving.
ID

Wd.

Lg.

Wall


Thick.

Temperature


Range,

°F

Features
Cable
Opening

Wd.

Color
Each

Polyurethane Rubber

For UR3 and UR3e Series Robot Arms

2

1/8

"
2

5/8

"
3

1/4

"
3

1/4

"
10

7/8

"
12

3/8

"
0.018"
-60° to 200°
Cable Channel
1"
Black
00000000
000000