High-Strength

HTD

Cut-to-Length

Timing Belts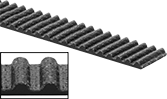 Replace worn timing belts in 3D printers and other precision linear motion equipment with the exact belt length and teeth shape required. These high torque drive (HTD) belts come in a variety of lengths so you can cut the exact length you need. Also known as curvilinear and synchronous belts, they have curved teeth, which make them both stronger and quieter than belts with trapezoidal teeth. They also stay in contact longer with the pulley's teeth, which reduces backlash. Backlash is the looseness between the teeth of the belt and the teeth of the pulley. In 3D printers, machine tool drives, robotics, and other automated systems where precise starts and stops are required, reducing backlash increases accuracy.
Made of fiberglass-reinforced neoprene, these belts are strong, long lasting, and resist elongation. The teeth are coated with nylon to prevent wear and improve grip.
Unlike other cut-to-length timing belts, these do not require end plates to attach the two ends of the belt together. Instead, the ends of the belt attach directly to your printer head or other equipment.
Belt Trade
Number
Manufacturer
Equivalent Number

Pitch,


mm
Material
Color
Temperature


Range,

°F

500
mm

Lg.

1,000


mm

Lg.

2,000


mm

Lg.

3,000


mm

Lg.

LL2MR06
Gates PowerGrip 2GT
2
Neoprene
Black
-30° to 175°
000000
LL2MR09
Gates PowerGrip 2GT
2
Neoprene
Black
-30° to 175°
000000
LL2MR12
Gates PowerGrip 2GT
2
Neoprene
Black
-30° to 175°
000000